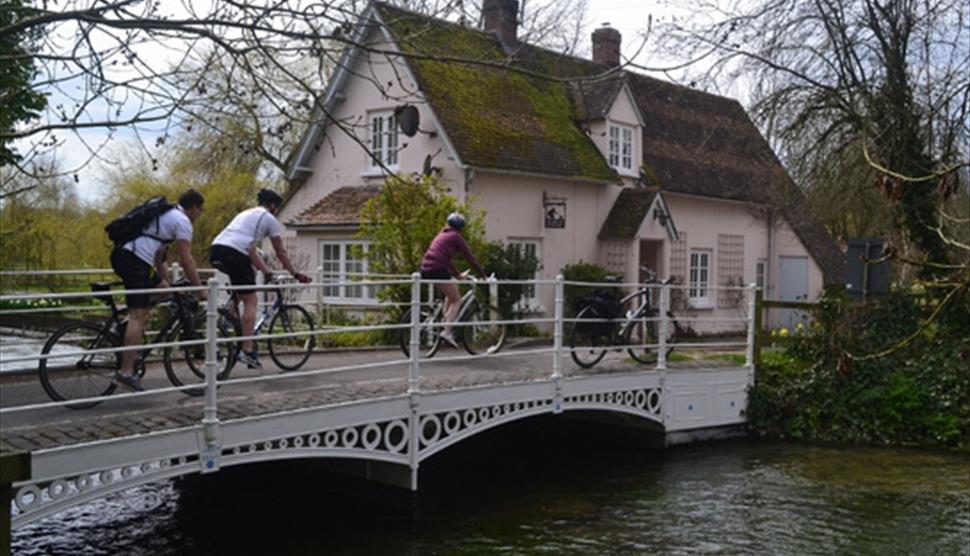 About
Join us for a cycle tour of the beautiful Hampshire countryside home to some of the Country's prettiest rural landscapes including the Test Valley, England's most famous chalk stream. All of our rides are fully guided by Lawrie Blyth who has an extensive local knowledge of the Test Valley and North Hampshire country lanes and is also a passionate cyclist who has recently completed a 5 month cycle tour of Australia. Lawrie is keen to make sure that every aspect of the tour route is designed to make sure that you get a good dose of pure English countryside and fresh air using only the safest roads.

At the heart of the Test Valley is the river Test. Easily the most enchanting chalk stream in England, famous for its fishing and loved by all who visit for its peaceful nature. Discover this picturesque county's stunning blend of ancient deciduous woodlands and rolling open countryside. With such a wide range of natural environments it is possible to catch glimpses of the wild birds and mammals that dwell here including several species of Hawk, Owl and large wading birds even Otters more recently have been spotted along the river banks.

Pedal through Hampshire's past as we show you around some of the historic sites. Many of the roads and trails that we use on our tours have their own unique past such as the parts of the Test Way which were once used as a canal, before being filled in and converted to the Sprat and Winkle railway line which was then closed in the mid-60s and is now used today as a popular bridleway. It is still possible to see the old station platforms, railway bridges and even the signals in places. Hampshire is also home to a great number of beautiful Parish churches dating back to the 12th century, many of which have not changed much in all those hundreds of years and are still very much in use today. Our 'Twelve Villages Tour' of the North Hampshire area near Andover explores a few of the local parishes and their wonderful settings.

Our tranquil landscapes and picturesque villages are both pleasing to the eye and the lens, so please feel free to bring your cameras along. Even on cloudy, rainy days there's a picture just waiting to be taken and put into the photo album.

All of our rides will include a pub or picnic break at some stage (dependant on tour). Tucked away in beautiful settings, Hampshire has an array of traditional pubs that serve up delicious food using fresh, local ingredients with a warm welcome. Afterwards relax and unwind in the beer garden and try the local ales produced by the many micro-breweries in Hampshire and bordering Wiltshire.

You may wish to book an exclusive tour completely tailor-made to you and your party's requirements. We can build you a ride to remember! Ideal for special occasions or even as a corporate event with a small team of colleagues. Give us a call or send an email with your details. Please visit our website to book online and follow us on Twitter and Facebook as we are constantly updating our tours with new routes and dates. Our online photo gallery shows some of the highlights from our tours, as well as some of the happy faces that have put us to the test!

Opening Times
Open all year

(1 Jan 2020 - 31 Dec 2020)

Monday - Sunday

Open
Map & Directions

Click to Activate
View Map