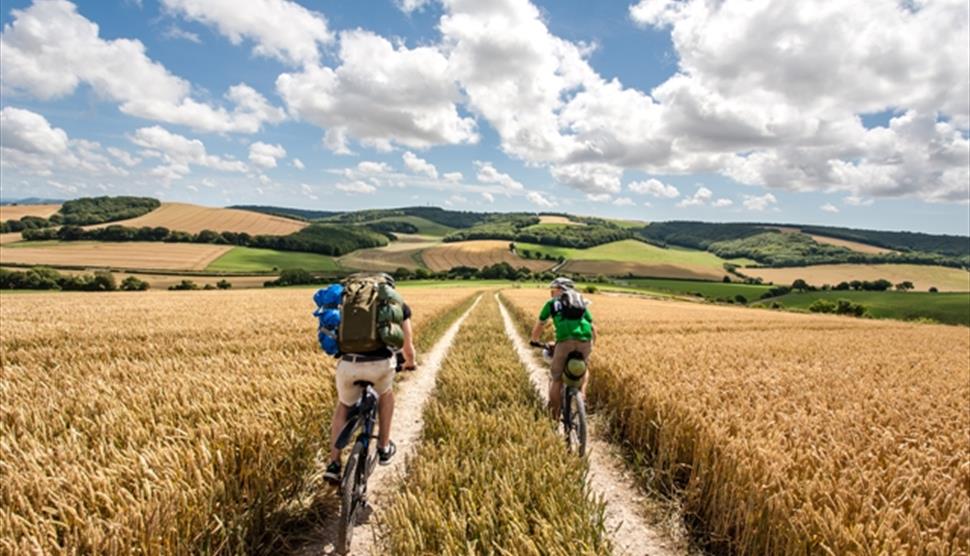 Cycle the South Downs Way

About
The 100 miles (160 Km) long South Downs Way National Trail follows the old routes and droveways along the chalk escarpment and ridges of the South Downs. The route provides the visitor with the opportunity "to get away from it all" without having to travel too far in this busy part of England. The undulating route provides a wonderful trip for long distance riders.

To cycle the South Downs Way takes 2 or 3 days if you are used to off road cycling - doing it in anything less than 3 days will require quite a high degree of fitness. It is possible to do it in a day but that's an extreme challenge! There's about 12,600ft (3800m) of climb as well as the 100 miles (160km) of distance.

The South Downs Way is open to mountain bikers for the full 100 miles from Eastbourne to Winchester. Please be aware that there are sections where footpath and bridleway routes are separate, cyclists must stick to the bridleway. Notably between Alfriston and Eastbourne at the eastern end of the Trail. The coastal route over the Seven Sisters and Beachy Head is a footpath only and can not be ridden. Cyclists must use the Bridleway route, passed the 'Long Man of Wilmington' and through Jevington to Eastbourne.

Routes available include:
Winchester City to Beacon Hill national Nature reserve - 11 miles (17.7 Km)
Beacon Hill to Old Winchester Hill - 4.5 miles (7.2 Km)
Old Winchester Hill to Buriton - 12 miles (19.3 Km)

The South Downs are also suitable for walkers and horse riders.

The South Downs Way doesn't have any stiles, at least on the bridleway route, but it is not engineered as a fully accessible route. Parts are steep and much of it is used by farm vehicles. It is possible to explore the Trail using a "Tramper" or other rugged mobility scooter.
Map & Directions

Click to Activate
View Map