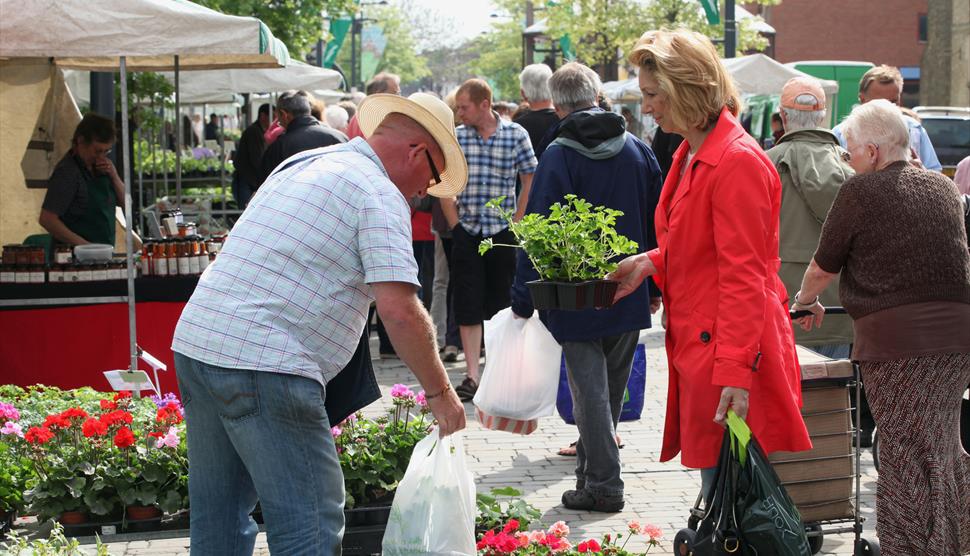 Fareham

About
The market town of Fareham lies halfway between the larger cities of Southampton and Portsmouth. It combines a High Street of characterful old buildings and a modern pedestrianised central shopping area. With easy access from the M27 and A27 to its extensive car parks, a central bus station and a nearby railway station, Fareham is a modern and thriving town centre that is easily accessible to all.

Fareham boasts around 300 shops, plentiful cafes, restaurants and pubs, a wide range of business services and a lively entertainment scene. A compact, easy access pedestrianised town with undercover centre and surrounding speciality shops, Fareham town centre retains its traditional market town and historic architectural appeal in a modern shopping environment.

Monday Markets
Probably the best traditional open-air market in the region, up to 50 stalls can be found in West Street precinct every Monday throughout the year from 9am to 3pm, including all public holidays.

Farmers' Markets
Fareham has been hosting its own independent Farmers Markets since 1998. At these well-established and popular markets you'll find up to 40 local farmers selling their freshly grown and prepared produce on the first Saturday of the month throughout the year from 9am to 2pm. There are also special seasonal Farmers Markets on Easter Saturday (11 April) and the Saturday before Christmas (19 December). Find the Farmers Market in West Street precinct.

Gardeners' Markets
Are held annually on the second Saturday in May and June in West Street. These popular markets draw big crowds to purchase the pick of the season's plants from local growers.

West Street Speciality Shops
Wander along West Street and you'll find a whole range of local speciality shops to make that individual purchase.

From Westbury Manor Museum westwards along West Street, you'll find around 70 shops and businesses. Many of the shops are independently owned and managed, with a unique speciality shopping offer.

From cake decorating to carpets, fresh fish to fire places and bathrooms to ball gowns, West Street offers plenty of choice for the discerning customer.

Fareham Shopping Centre
A bright and airy undercover shopping centre offering around 80 high street names, including Bhs, Boots, Debenhams, M&S and Next, 7 days a week.

Market Quay Shopping Centre
This open air centre contains 17 shops and leisure facilities including LA Fitness and the Apollo 5-screen cinema. For more cinema information, please click here (www.apollocinemas.co.uk).

Historical High Street
Located to the east of the town centre, High Street boasts some lovely examples of Georgian architecture and is home to a number of quality restaurants and speciality shops and services.

Events
A number of events are held throughout the year in the town centre.
Map & Directions

Click to Activate