Southampton is the cruise capital of Europe, you can travel to the North America, Caribbean, Europe, Scandinavia and UK cruises. Southampton has a long association with the sea, famous for ships such as Queen Mary 2 setting sail on it's maiden voyage.
If you are setting sail from Southampton we want to give you some handy tips of where to stay and things to do in and around Southampton whether you are staying the night before or have a few hours before you embark on your trip.
Please check ahead with the business to find out about any restrictions due to COVID-19

Things to do in Southampton
There's plenty of things to see an do in Southampton, head to SeaCity Museum to learn about the city's maritime history, including the HMS Titanic which set sail from Southampton.
Don't miss Tudor House and Garden built in 1495 and one of the oldest buildings in the city.
If you are looking for some retail therapy look no further than West Quay shopping centre. West Quay's expansion will be finished in spring 2017 which will include more shops, restaurants bars and plaza which backs onto the historic city walls.
Southampton's Mayflower Theatre holds major productions such as Billy Elliott and other popular musicals from the West End.
Love football watch Premier League game at Southampton Football Club or do a Stadium Tour.

Where to Eat and Drink in Southampton
There are four main areas to eat and drink in Southampton; Oxford Street, the Cultural Quarter, Ocean Village, West Quay.
Head to Oxford Street for great bars and restaurants, have a cocktail at the Grand Café located in the grade II listed building South Western House. Dine or have a drink in the White Star Tavern, named after the company which owned the Titanic, serving fantastic food all locally sourced.
The Cultural Quarter is located a 5-10 minute walk from the Southampton Central station, has a mix of restaurants from all nationalities. Stable is a restaurant which serves up gourmet pizza and pie and has a fantastic selection of ciders. If you love craft beers then Neighbourhood is the place for you.
Ocean Village is the picturesque marina location and is home to Banana Wharf, great for a summer drink with it's outdoor seating area overlooking the marina. Eat at Steak of the Art a funky steak house or soon to be open the Jetty restaurant at the new luxury hotel the Southampton Harbour Hotel.
West Quay has an abundance of well known names to choose from, such as the Mexican street food restaurant Wahaca or why not go Mediterranean at the Real Greek.
If you are looking for a nice place to have a drink before you board try the Dancing Man Brewery located in Town Quay this former wool house serves great food and drink and has an award winning micro brewery.

Left Luggage
Wanting to explore the city without lugging your luggage with you? There are number of different locations where you can leave your bags safely. Please check with each provider for full details.
Oceans is based on the High Street and provides a tourist information service, luggage storage as well as a place to buy souvenirs.
Visit SeaCity Museum and you can store your luggage whilst venturing around the museum.
Southampton Airport is a 20 minute drive from the city centre and baggage can be left in the terminal for £6.00 per bag / per day providing peace of mind that belongings will be held securely until collection.

Accommodation in Southampton
Start your trip early and arrive the day before departure and explore Southampton or other popular destinations in Hampshire such as Portsmouth, New Forest and Winchester all with good access by road and rail.
There are tons of hotels to choose from all located a short taxi ride away from the cruise terminals. With many well known hotel brands such as Novotel, Premier Inn, IBIS, Jurys Inn or if you are looking for something a little more special look at the Hilton, The Pig in the Wall, Grand Harbour Hotel and soon to be open Southampton Harbour Hotel
Find your perfect hotel in Southampton

Extend Your Holiday and Stay A Little Longer - Getting Around Hampshire
Why not make more of your cruise break by exploring the rest of the county. Southampton is a great base to get around Hampshire due to excellent road network linking our villages, towns, cities, attractions and places to stay.
Steady your sea legs on terra firma either on foot or by bike exploring our two National Parks the New Forest or South Downs. Hampshire has hundred's of things to see and do, whether you love taking in nature at a world class garden or stately home or castle, want to taste award winning English Sparkling wine at one of our vineyards or looking for culture in one of the many museums scattered across the county.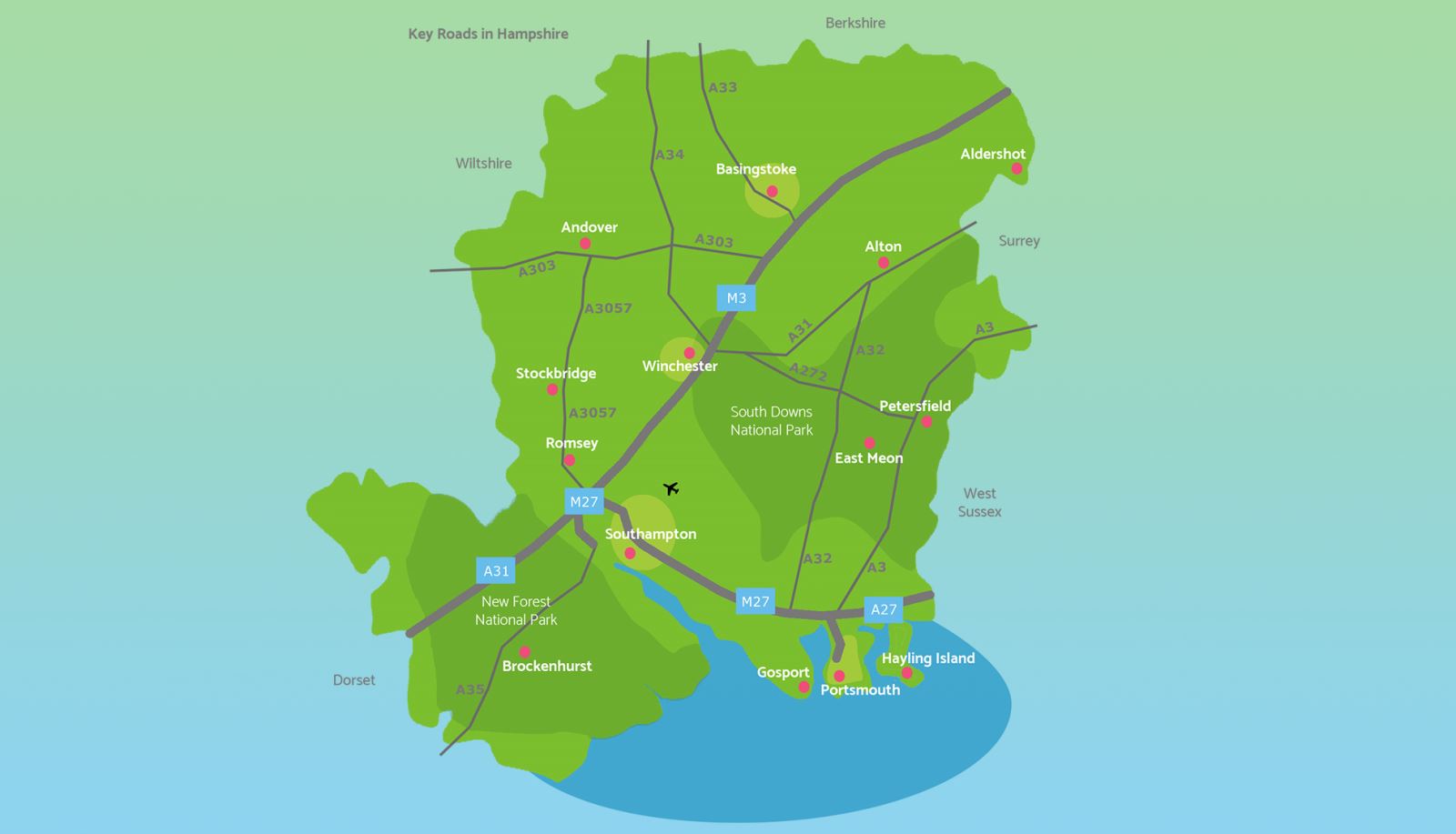 Below is an example of journey times by car betweet our cities and towns.

Tourist Information Centres