Whether you are planning your summer break or a day trip, Hampshire is waiting to be discovered. The county is home to some of the UK's very best attractions, all offering great days out and something for everyone.
Choose Hampshire for your next day trip or short break and discover unique behind the scenes footage from Top Gear HQ, where Bombay Sapphire Gin is made, why the Mary Rose was Henry VIII's favourite ship and where Nelson was shot onboard HMS Victory.

Must Visit Attractions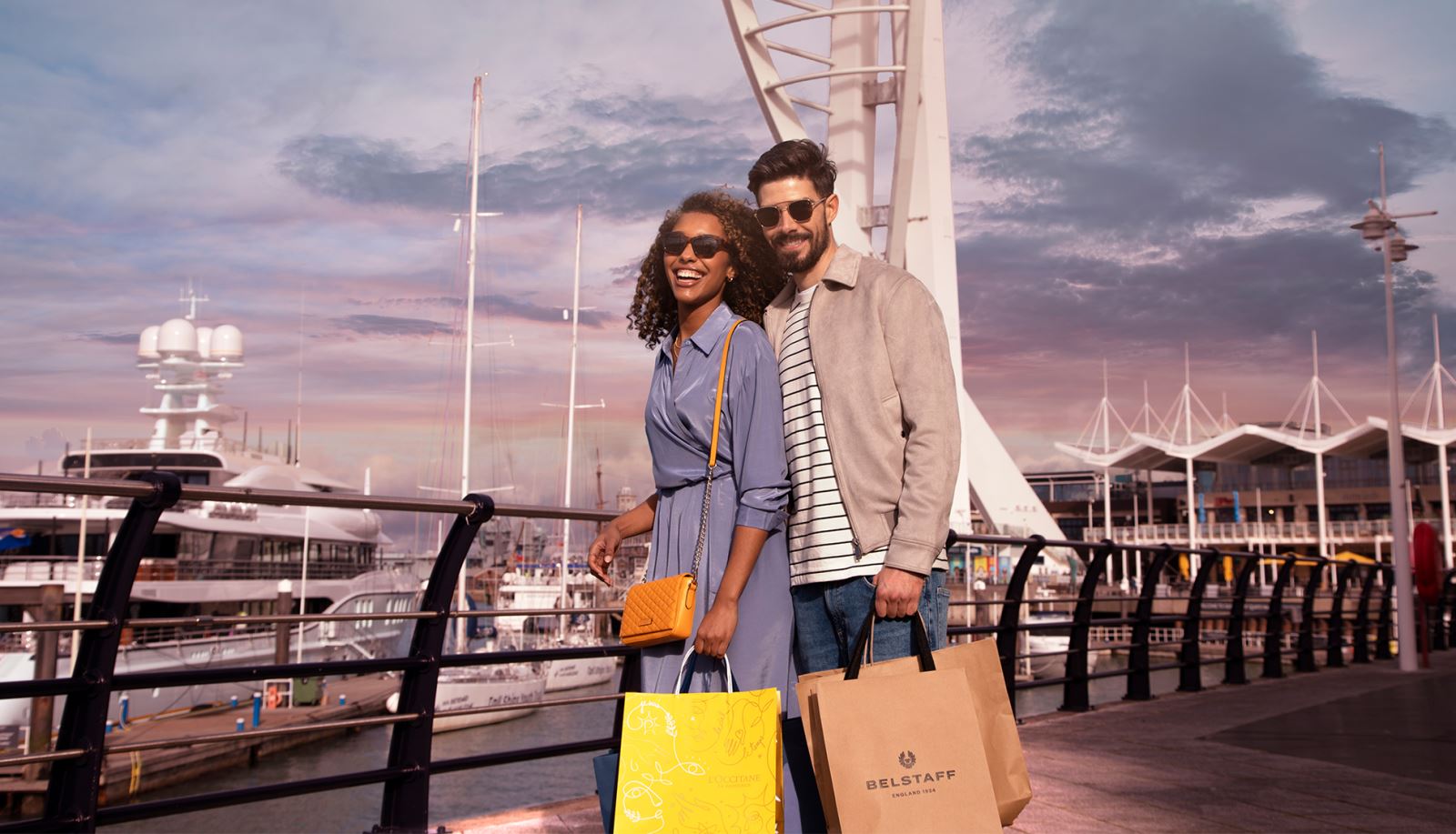 Gunwharf Quays
Shop 'til you drop whilst enjoying outlet prices at the UK's only waterfront shopping destination. Gunwharf Quays is located on the edge of the maritime city of Portsmouth's harbour and offers over 90 famous brands including Coach, North Face, The White Company, Hugo Boss and Nike. As well as shopping discover over 30 restaurants, bars and cafes, many situated along the waterfront offering spectacular views across the harbour.

Waiting to be discovered:
When shopping at Gunwharf Quay's you can save up to 60% premium brands.
Not only can you shop, Gunwharf is home to a 14 screen Cinema and a bowling alley.
Prior to being a shopping destination, Gunwharf Quays was where the Royal Navy and Army stored its weaponry. Rumour has it that Nelson marched through Vermon Gate, The north pedestrian entrance to Gunwharf, on this way to the Battle of Trafalgar.
Find out more about Gunwharf Quays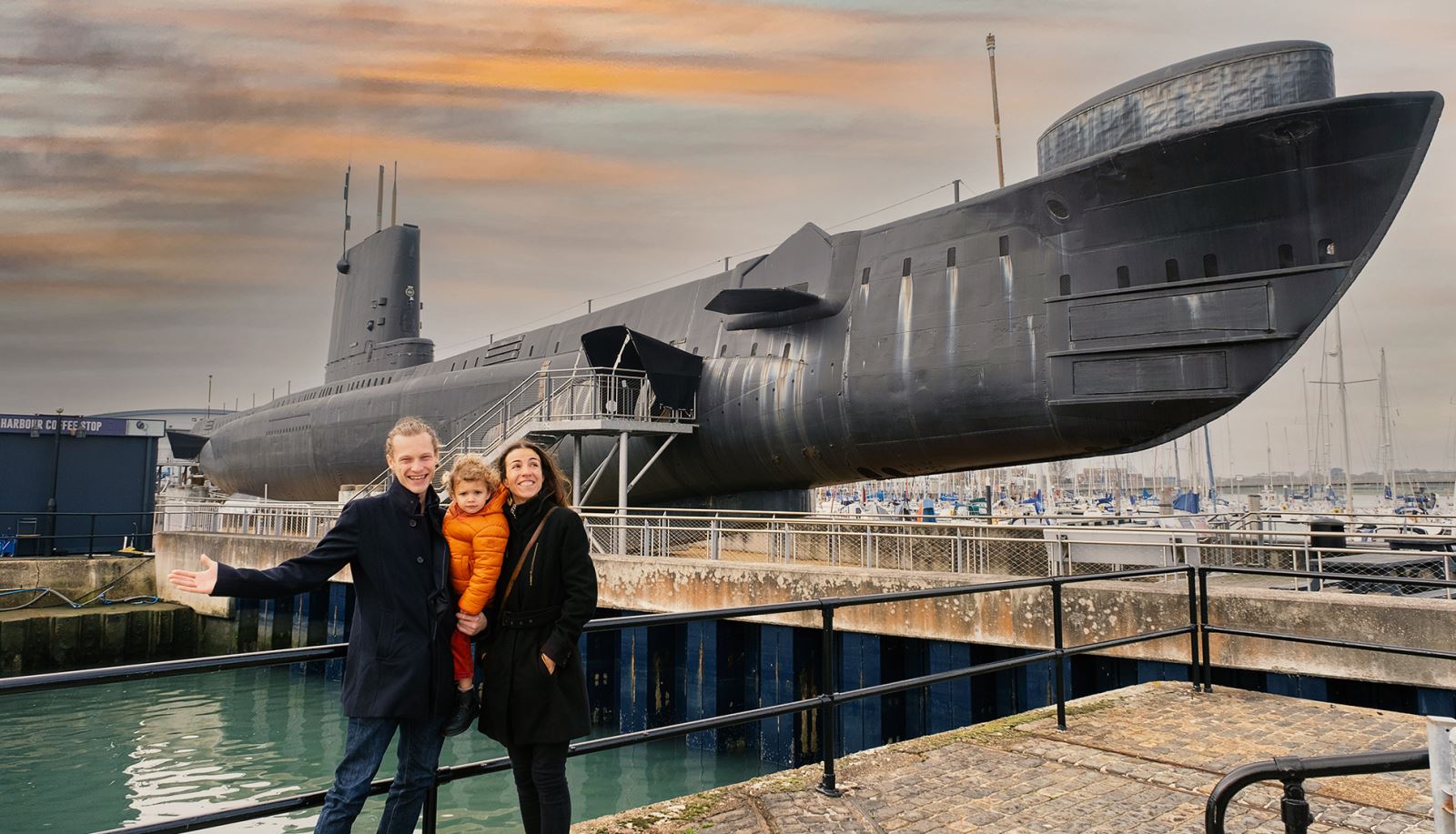 Portsmouth Historic Dockyard
Step back in time onboard authentic historic ships at Portsmouth Historic Dockyard. Your ticket will give you entry into all the fascinating ships including Lord Nelson's HMS Victory, Queen Victoria's HMS Warrior and Henry VIII's favourite ship The Mary Rose. Discover insightful exhibitions and venture to Gosport on the waterbus, where you can walk the narrow confines of HMS Alliance at the Royal Navy Submarine Museum or wander around the new permanent gallery at the Explosion Museum of Naval Firepower. 
Waiting to be discovered:
Jump on one of the free harbour tours and see some of the current Royal Navy ships docked next to the attraction.
Buy the 'Ultimate Explorer ticket' from Portsmouth Historic Dockyard's website in advance of your visit. As well as entry into the Dockyards, this ticket includes entry into The Mary Rose and means you can visit as often as you like for 12 months.
Did you know Portsmouth Historic Dockyard has been the setting for some huge movies including Les Miserables and Transformers?
Find out more about Portsmouth Historic Dockyard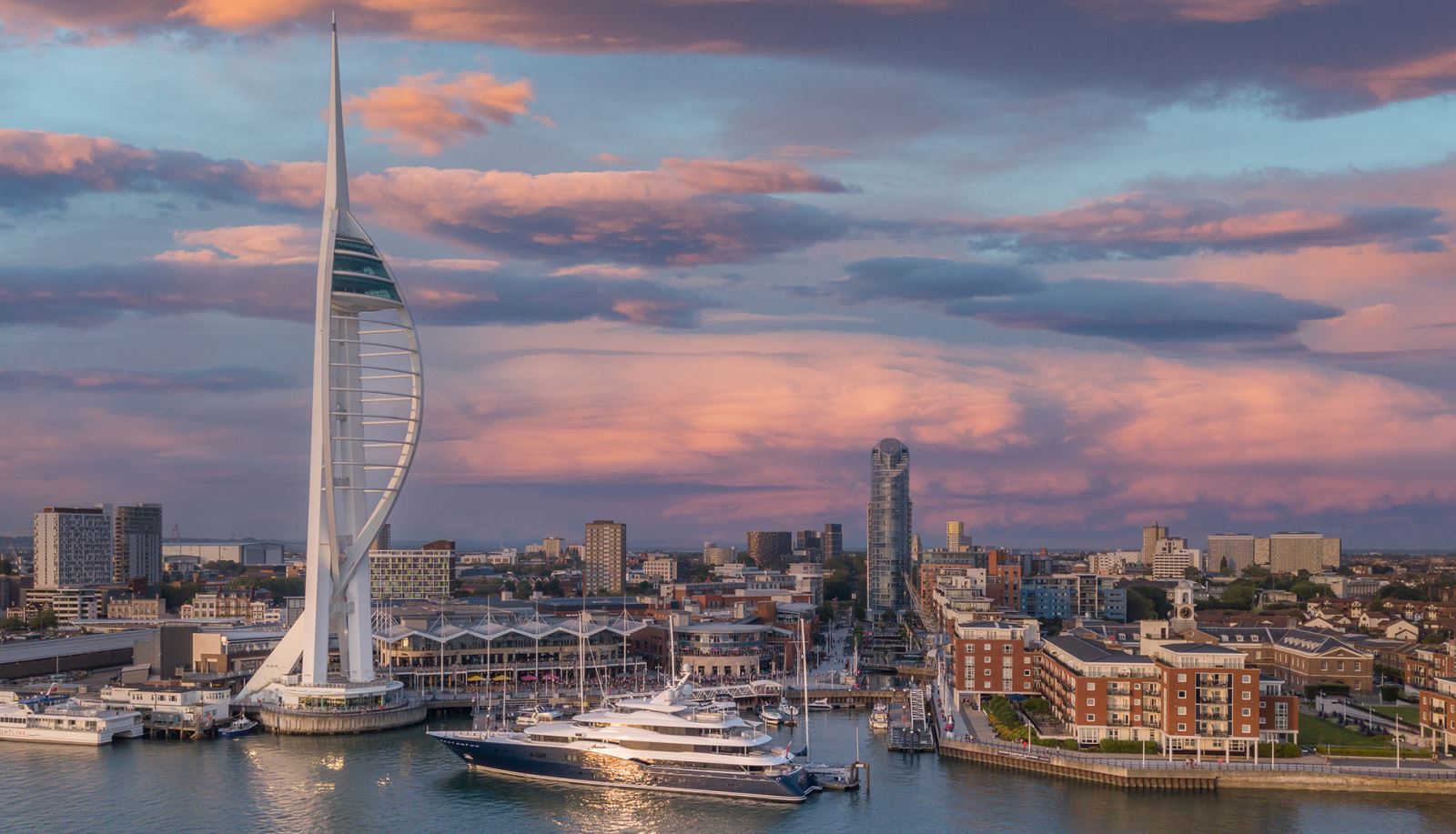 Spinnaker Tower
Adventure over 100 metres above the city of Portsmouth and enjoy views across the Solent to the Isle of Wight. Dare to cross the amazing glass Sky Walk and watch the boats bobbing about in the waves below your feet or head to up another level to the Sky Garden and feel the sea breeze on your face. On your way back down stop off at The Cloud Café and enjoy a coffee and cake whilst taking in the views.

Waiting to be discovered:
Make your visit extra special and book afternoon High Tea to be enjoyed 105 metres up in The Cloud Café.
For an adrenaline fuelled experience you can book an abseil down the side of the tower. Available April – September. Subject to availability.
Keep an eye on Spinnaker Tower's events programme for evening entertainment in the sky, including comedy nights, Sunset Sundays, and City Light nights.
Find out more about Spinnaker Tower



Bombay Sapphire Distillery
Embark on a discovery experience at Bombay Sapphire Distillery and learn how the world-famous Bombay Sapphire Gin is made and the ten botanicals that are used to make it. On your visit you will learn the care, skill and artistry that goes into every drop, see the iconic glass houses, and discover your own personal taste profile. At the end of your tour visit the Mill Bar where a member of bar staff will make you a delicious complimentary gin cocktail based on your taste profile.

Waiting to be discovered:
Make sure you try The Laverstoke Cocktail, which has been created especially for the distillery and is a nod to Laverstoke Mill where the distillery is located.
Upgrade your experience to a Cocktail Masterclass and learn to make your favourite gin-based cocktail.
Pop into the Gin Shop and stock up on all things Bombay Sapphire related before you head home.
Find out more about Bombay Sapphire Distillery



Beaulieu, Home of the National Motor Museum
Located in the New Forest National Park Beaulieu offers a top day out for the whole family and is much more than a Motor Museum! Step inside The National Motor Museum and discover over 250 vehicles, explore Lord Montague's family home, Palace House and walk around Beaulieu Abbey which was largely destroyed by Henry VIII. Little ones (and big ones) will love a ride the monorail around the grounds and also letting off some of their steam by running wild around Little Beaulieu play area.

Waiting to be discovered:


Paultons Park, Home of Peppa Pig World
Voted number one family theme park in the UK by TripAdvisor four years running, Paultons Park is located on the edge of the New Forest National park and is home to the only Peppa Pig World. This family theme park offers an unforgettable experience for all ages. Spend the day riding exhilarating rides and roller coasters, meeting the park's animals, or exploring the 140 acres of landscaped gardens. If you are feeling brave, adventure into the Lost Kingdom where dinosaurs roam among two dino-themed family roller coasters. Before you leave don't forget to pay a visit to Little Africa where you can come face to face with cute foxes, savannah monitor lizzards and many other African animals.

Waiting to be discovered:
Dare you ride the Cobra? This thrilling rollercoaster offers amazing views across the park and is unique to Paultons in the UK!
Paultons Park has plenty of areas to discover including Lost Kingdom, Critter Creek, Little Africa and the UK exclusive and world's first, Peppa Pig World.
Limited availability – all tickets must be purchased in advance.
Find out more about Paultons Park

With So Much To See, Why Not Stay A Little Longer?
As well as some of the best attractions in the country, the county is home to fantastic accommodation with something for everyone, miles of open space and two National Parks.

Travel Information
Getting to Hampshire
Hampshire is very accessible, below are a sample average journey times by car:


Getting Around Hampshire
Hampshire has an excellent road network linking our villages, towns, cities, attractions and places to stay.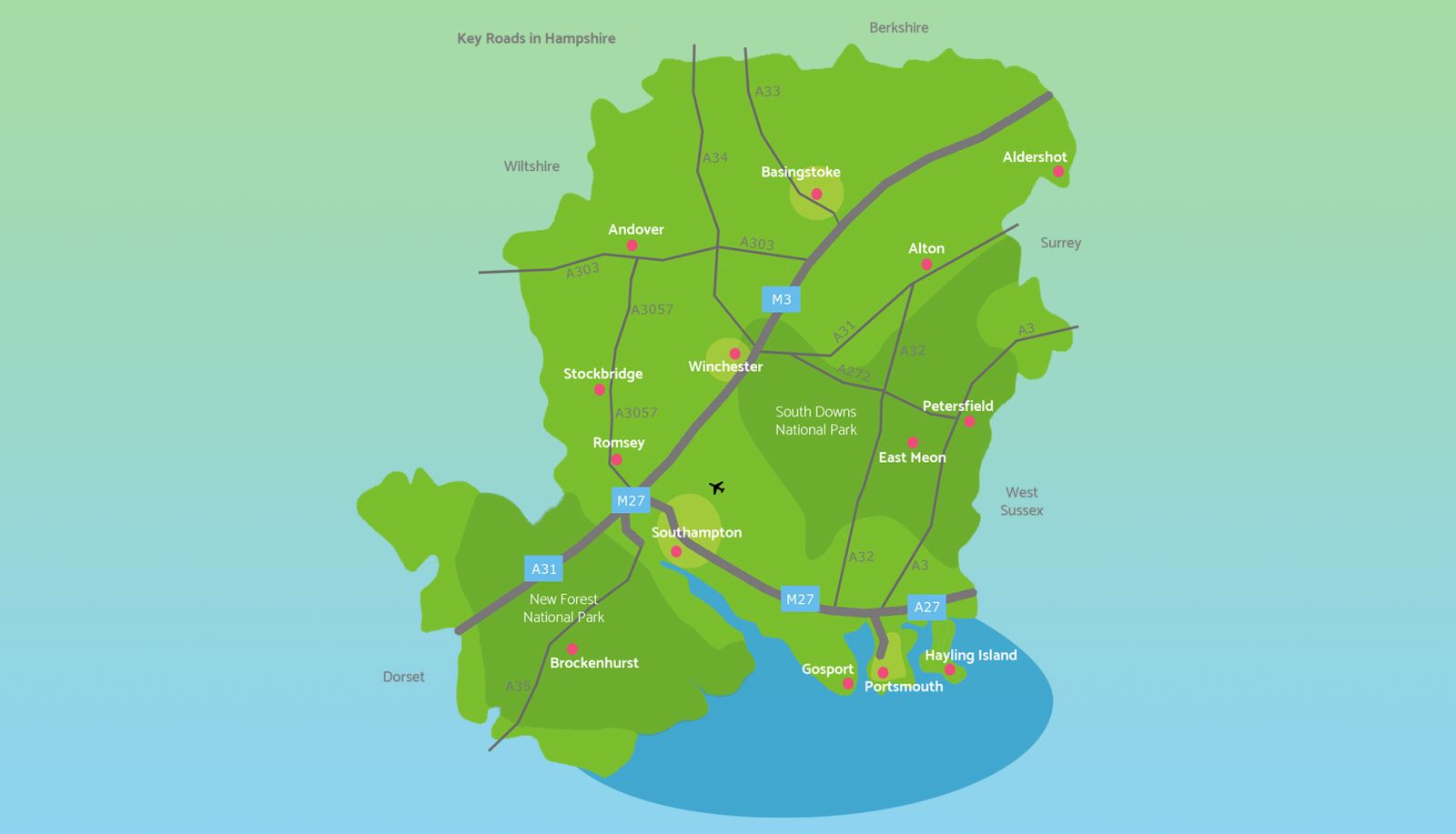 Below is an example of journey times by car between our cities and towns.