An unspoilt cathedral city on the edge of the rolling South Downs National Park, Winchester is England's ancient capital and former seat of King Alfred the Great. Today, Winchester combines the best of city life with the freshness of the surrounding countryside. One hour from London, this is England as it ought to be.
Home of good food and the country's largest farmers' market, birthplace of the modern game of cricket, resting place of author Jane Austen and inspiration to the many craft-makers and artists who live here, Winchester is truly a destination for all seasons.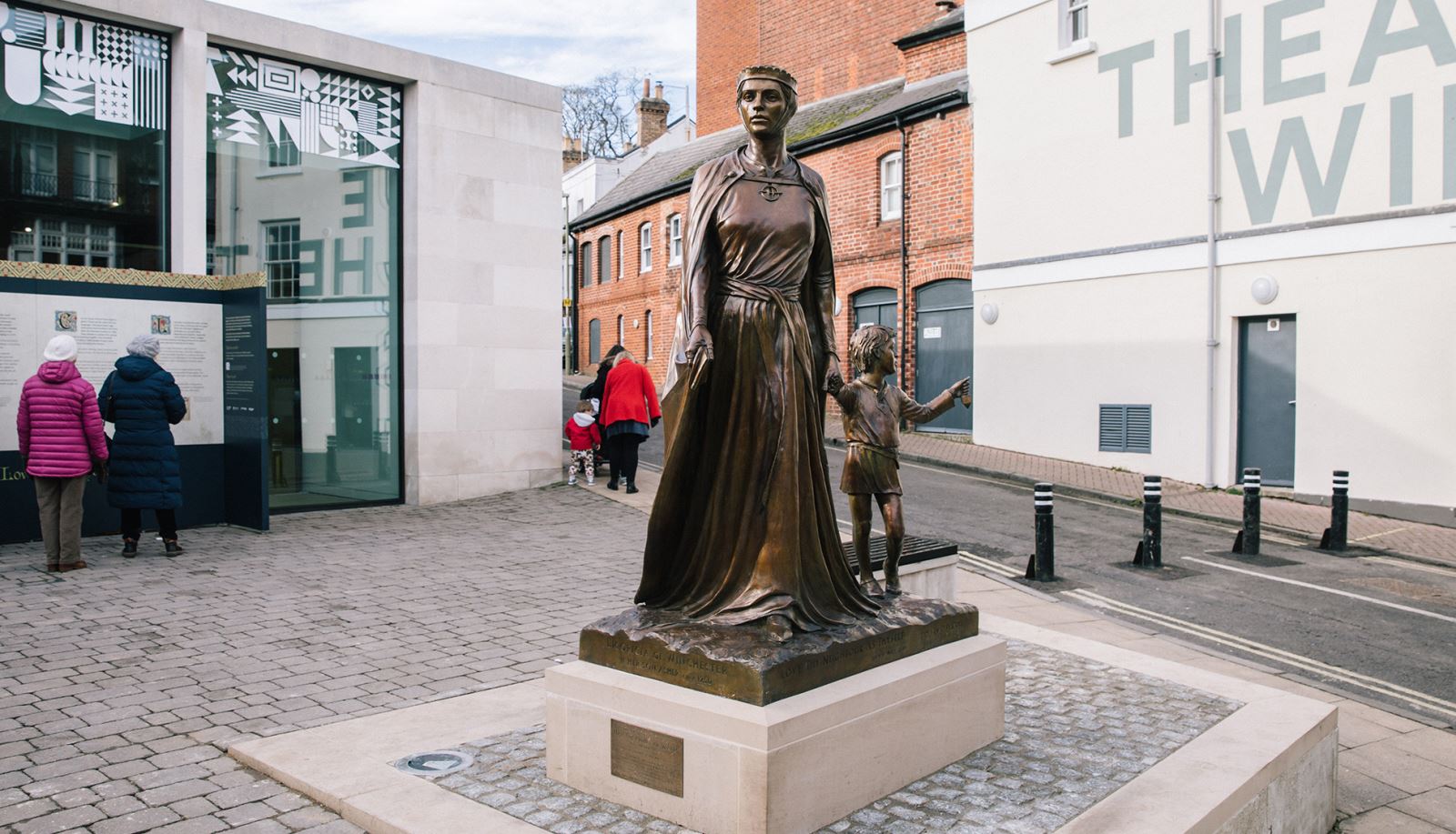 Lively street theatre, a thriving contemporary arts scene and fine architecture also make Winchester an attractive destination for visitors. Leading examples of sculpture can also be found across the city, including a statue portraying Licoricia, a prominent member of Winchester's medieval Jewish community. Over four million people visit the ancient city every year.Over four million people visit the ancient city every year.

Attractions in Winchester
Popular for its bustling shopping streets, its floral summer season and quirky open air events, Winchester is most well-known for its eleventh century Cathedral and for the Great Hall which for over 700 years has housed the mysterious King Athur's Round Table.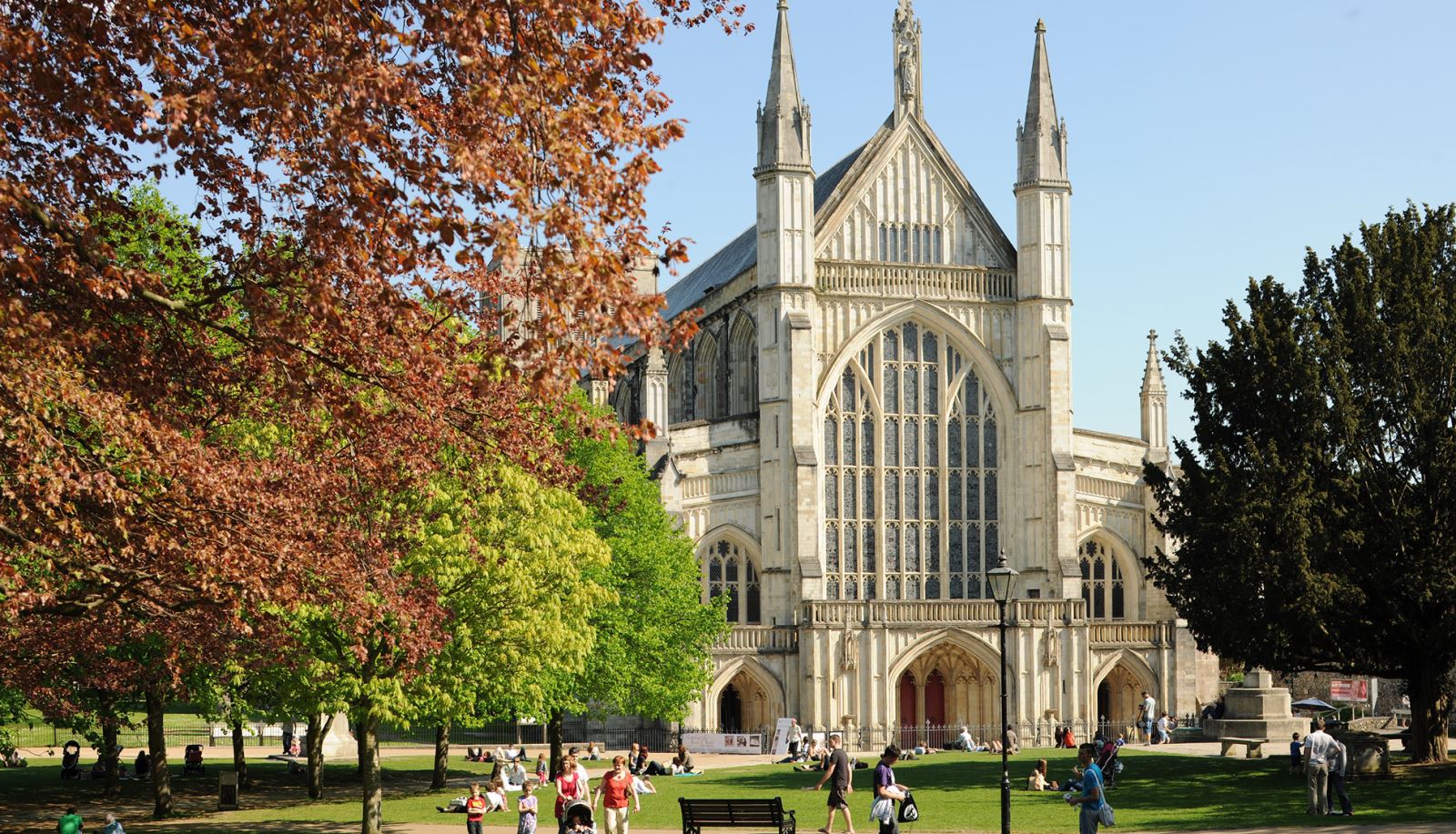 Winchester College is the oldest continuously running school in the country. The college has been used as a location to film a number of blockbusters such as Harry Potter and Les Misérables. The college offers tours of it's historical buildings and fascinating grounds. Heading out of the city you'll fine the Hospital of St Cross, a medieval almshouse, which still offers the Wayfarer's Dole to travellers as it has done for more than eight centuries.
Winchester's many bars, traditional pubs and restaurants make eating out a pleasure, and there are pretty riverside walks past tranquil water meadows. The city sits on the edge of the South Downs National Park and is the start place for the famous South Downs Way. For fabulous views of the city and the surrounding area, take a stroll up to St Catherine's Hill.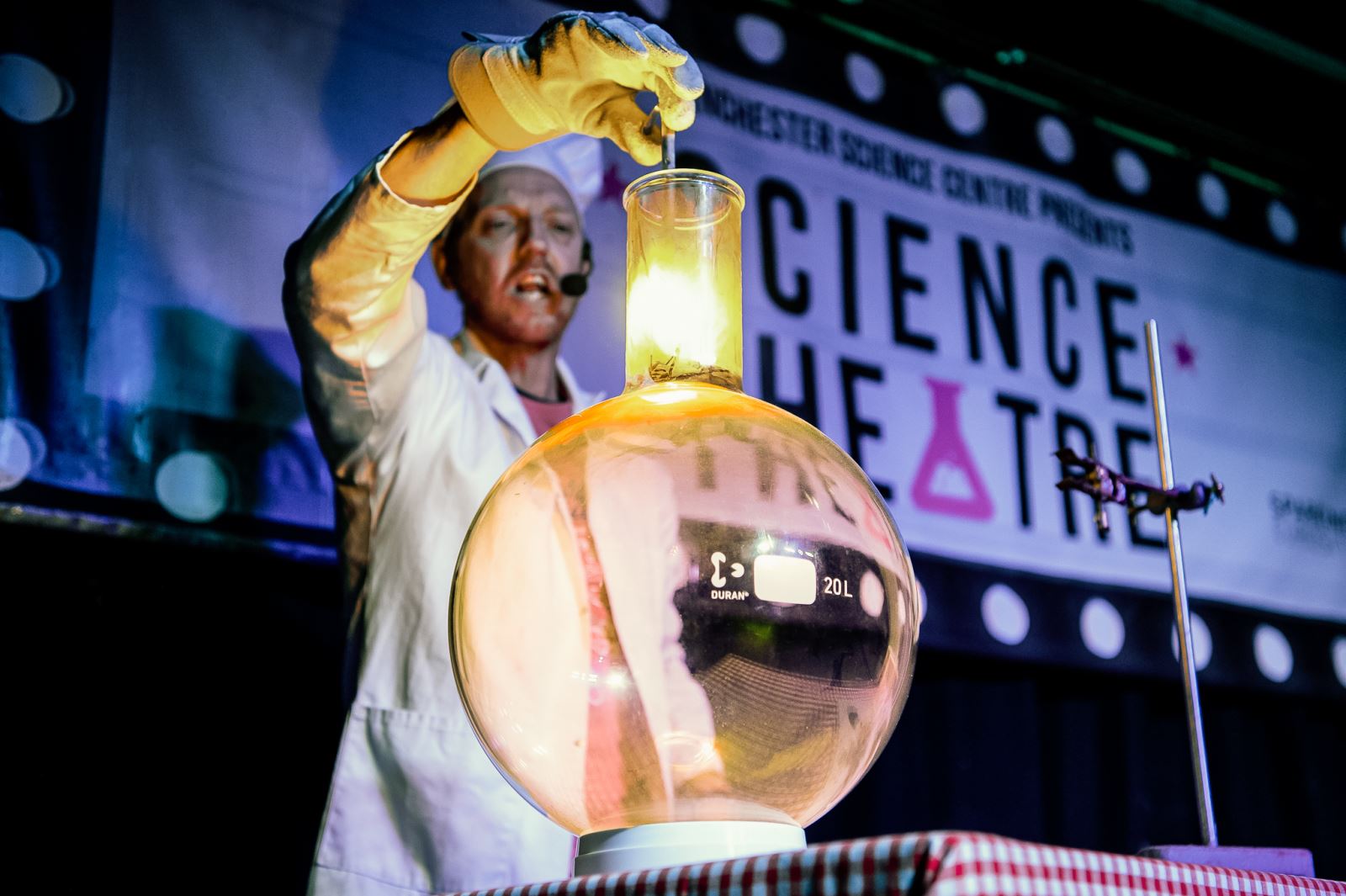 A short distance from the city is Winchester Science Centre & Planetarium. This Family friendly attraction has 100 hands-on indestructible activities for inquisitive children, space zone and planetarium! Also nearby is Hampshire's largest animal attraction, Marwell Wildlife. This 140-acre park is home to over 250 exotic and endangered species in beautiful, landscaped surroundings. In the nearby market town of Alresford you'll find the famous Mid Hants Railway 'Watercress Line'. Experience the golden age of steam, sit back, relax and travel ten miles through Hampshire's picturesque countryside by steam train.
See all attractions in and around Winchester

Events in Winchester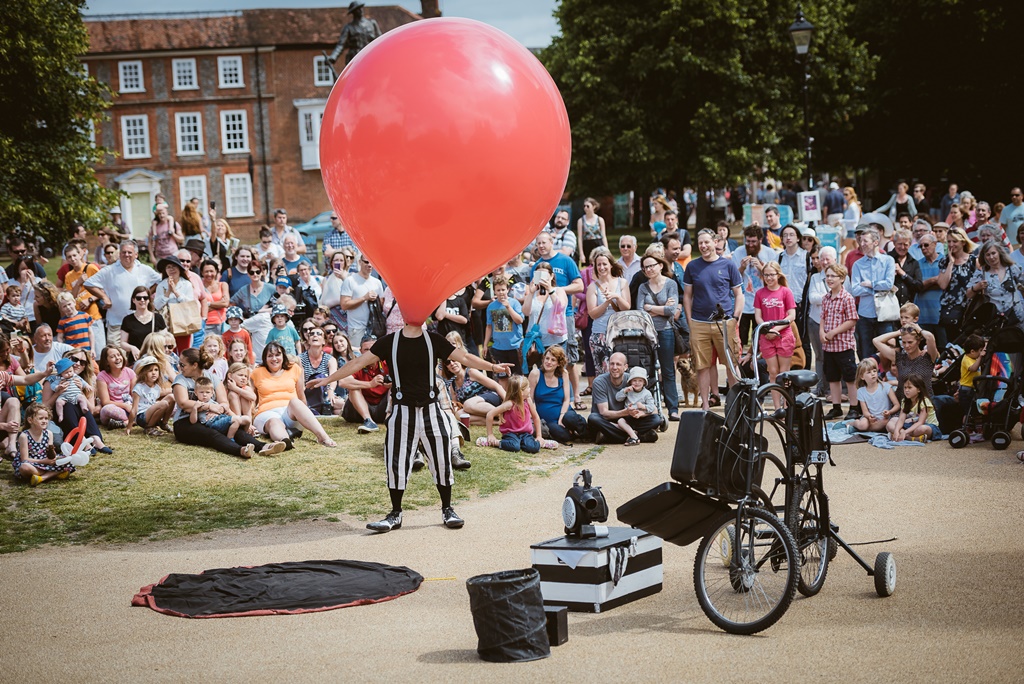 Winchester has a jammed pack programme of events throughout the year. The summer season is full of festivals, markets and family friendly events. At Christmas the city comes alive with festive cheer, boasting one of the UK's best Christmas Markets.
The Winchester Hat Fair is the UK's longest running festival of outdoor arts, this colourful events takes over the centre of Winchester with street theatre, entertainment, dance and circus.
Visit Winchester during the festive period and experience a Christmas Wonderland. You'll find the Winchester Cathedral Christmas Market and Ice Rink nestled in the Cathedral's historic grounds. Enjoy festive foods, Christmas shopping and a skate on the real ice rink.
Surrounding Winchester are a number of towns and village all offering excellent events throughout the year. The Watercress Festival in Alresford, Boomtown music festival and CarFest South are to name a few.
Find out more about events in Hampshire

Accommodation in Winchester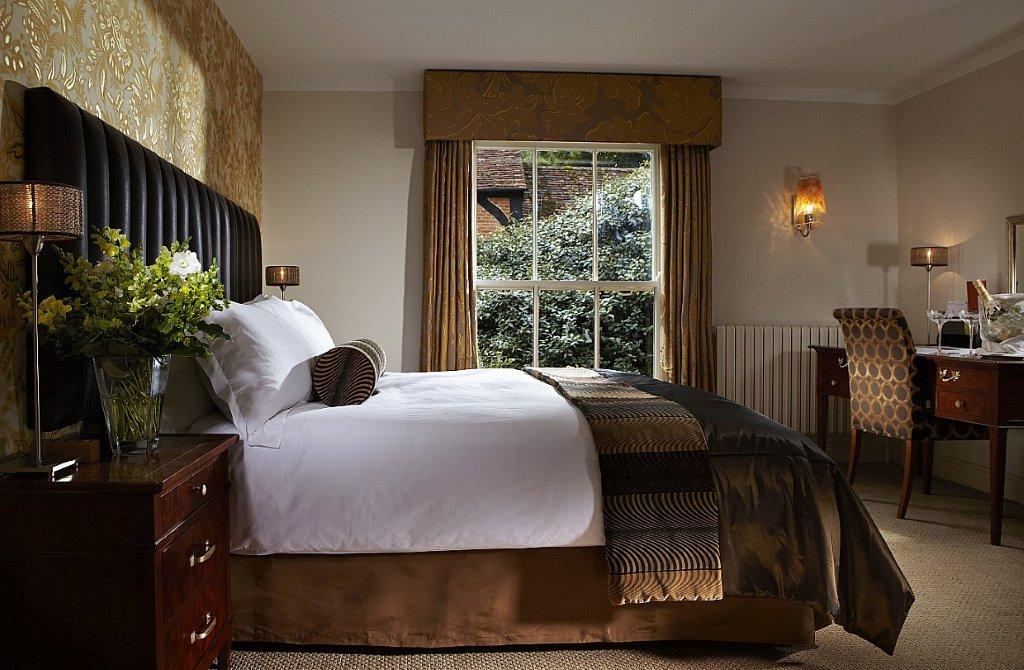 You'll find an array of accommodation in the heart of Winchester and the surrounding area. Choose from country house or boutique city centre hotels to unique self-catering properties and cosy pub accommodation. On the outskirts of Winchester amongst the rolling hills of the South Downs National Park you'll find a number of beautiful campsites and glamping sites.
Find out more about campsite near Winchester
Find out more about glamping sites near Winchester
For a touch of luxury, Hotel du Vin in the city centre offers beautiful rooms with exquisite service or head out into the countryside and stay at Lainston House Hotel. This grand 5 star country house hotel is set within 63 acres of countryside and offers lavish designed rooms, a 3 AA Rosetted restaurant and popular cookery school. The city is also home to a number of affordable family friendly hotels all within easy reach to the city centre.
Winchester's traditional pubs offer a quirky and cosy night's stay. Tucked away behind the Cathedral is The Wykeham Arm, one of Winchester's favourite pubs offering quality rooms, real ale and excellent locally sourced food.
If you're looking for a city centre pad with the flexibility of eating out or cooking in, check out Winchester's self-catering properties. Choose from designer apartments, beautifully decorated town houses and even a converted church.
Take a look at self-catering properties in Winchester
See all accommodation in and around Winchester

Food and Drink in Winchester

Winchester is known locally as Hampshire's foodie capital. You'll find an abundance of restaurants, cafés, bars, foodie markets and foodie themed events. A number of famous names have chosen Winchester to open their restaurants including Rick Steins Winchester and The Ivy Brasserie Winchester.
If you love cocktails head to the Cabinet Rooms, the team are highly experience at creating delicous cockatils and is a must visit. The Cabinet Rooms are also the organisers of Winchester Cocktail Week, where bars and pubs across the city focus on cocktails and special offers.
As well as famous names the city and surrounding area is home to award-winning restaurants such as the Michelin Starred, The Black Rat and the Michelin Guide recommended Pulpo Negro in Alresford. Located in one of Winchester's oldest buildings is the Chesil Rectory which has been voted as one of the UK's most romantic restaurants.
Among the famous names and award-winning eateries you'll find a number of top quality high street chains, unique independent foodie spots and traditional English pubs.
As well as places to eat Winchester is home to a number of shops and markets where you can purchase some of Hampshire's finest produce. For two Sundays of the month Hampshire Farmers' Market takes over the city centre with local meat, cheeses, baked goods, drink and more. The Winchester Farmers' Market is one of the biggest farmers' Markets in the UK.
Find out more about restaurants, bars and cafes in Winchester
Find out more about Farmer's Markets in Hampshire

Winchester Guided Tours
You can also book a guided tour in advance or on the day with one of Winchester's Official Tourist Guides, with a choice of special interest or themed city tours.