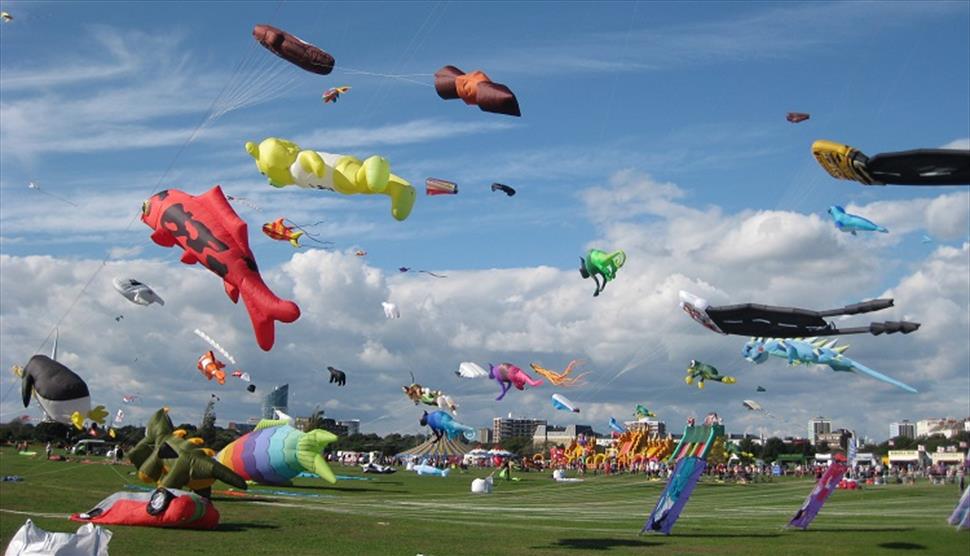 About
The 2022 Portsmouth Kite Festival will take place on the 30th and 31st July 2022.

Portsmouth International Kite Festival takes place on Southsea Common, Portsmouth. This year will be the 30th Portsmouth International Kite Festival with a special festival to mark the occasion.

Jointly organised by Portsmouth City Council and The Kite Society of Great Britain it promises to be more spectacular than ever with over a hundred invited kite fliers from 4 continents travelling to the event. They come because the Portsmouth International Kite Festival is recognised as one of the best Kite Festivals in the world.

The event will see colourful demonstrations of kites including swarms of snakes, frogs, lizards, whales, jesters, fish, salamanders and much more. Also in the sky there will be a wide range of kites to enjoy and admire. These include beautiful single line kites - intricately appliquéd or painted with magnificent designs, amazing cellular kites – flying miracles of structural engineering, awe inspiring 3D soft kites in a magical range of shapes and sizes and skilfully flown kites performing excellent tricks and routines to music. Many of these expert kite fliers have been coming to the kite festival for years and they always put on their best display of beautiful kites both in scheduled arena events and in free flying throughout the event.

At the 2016 Portsmouth International Kite Festival, a new world record for the number of Trilobite kites flown together was set, 21 in total. Since then the record has passed to the U.S.A. with 30 being flown, but the kite fliers intend to take it back again this year.

Alongside this amazing flying display there will be a host of other activities to meet a family's needs. These will include a craft tent, stalls, free children's kite workshop and children's rides along with local amusements. Also located on the common will be dedicated kite traders who will be able to provide you with a wide range of kites, from colourful branded kites for children or the young at heart to immense power kites for the more adventurous.

Opening Times
Sorry, this event has passed
Map & Directions

Click to Activate
View Map