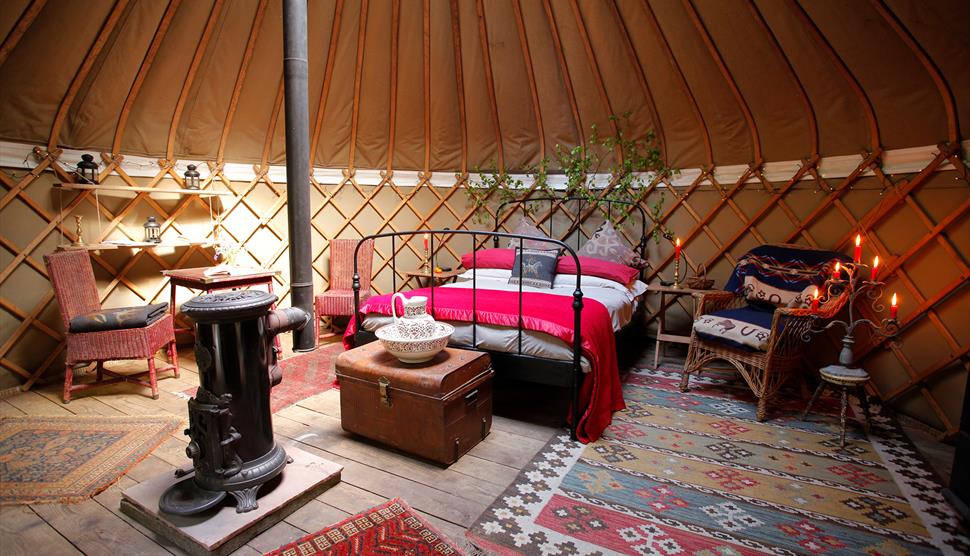 About
Adhurst Yurts are recommended by Canopy & Stars, The Telegraph, The Week, The Guardian and Hampshire Life. Six yurts are tucked within one hundred acres of ancient woodland above the banks of the River Rother on a 500-acre Victorian estate. The habitat includes river, wetlands, ancient bluebell woods, tree nursery, traditional coppice and grazing for horses and sheep. Adhurst provide stylish, healthy and ecologically-conscious holidays for everyone from family reunions to romantic couples to holidaying pets, foodies and nature enthusiasts. Rother Yurt and Willow Yurt have attached bath yurts.
Each space is its own private encampment with private safari kitchen. Birch Yurt, Redwood Yurt and Chestnut Yurt are ideal for friends sharing. Each space is designed to provide total privacy.
Most guests do the Adhurst Circular Walk which encompasses two traditional Hampshire pubs - The Harrow in Steep and The Queens Head in Sheet. A second walk of 4k leads to Durleighmarch Farm where there is a tea room and pick-your-own farm. Lots of guests simply remain tucked in the woods where they can pond dip or book fly fishing, play tennis or simply read by the fire.
Map & Directions

Click to Activate
View Map