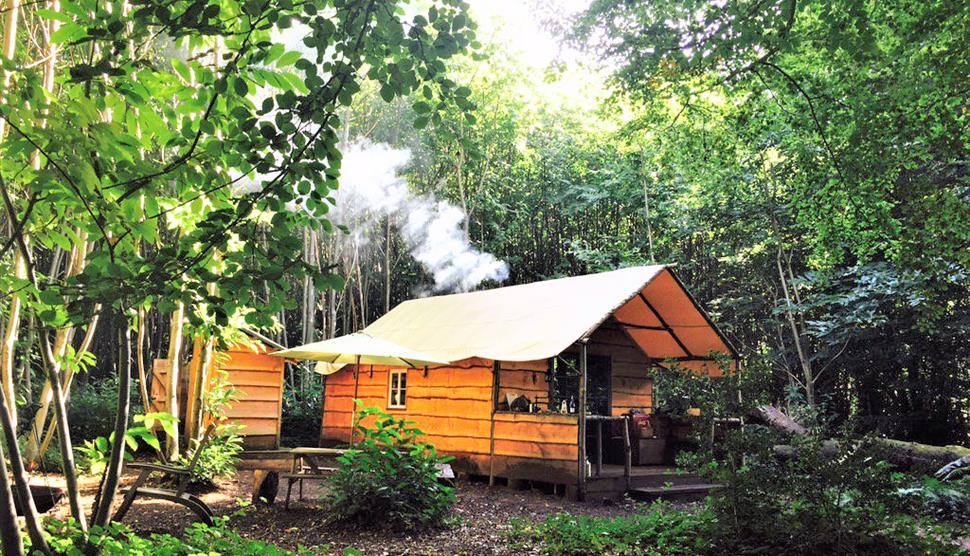 About
There is only one cabin at Adhurst, set within 100 acres of ancient woodland and totally private. Coppicer's Cabin is a wooden lodge with outdoor hot shower and outdoor privy. There's no electricity but the cabin does have hot water, wood burner and solar fairy lights. It's called Coppicer's because their coppicer Fred made this site his base in the woods. It's located beside the chestnut plantation and also on the edge of the ancient wood with majestic oaks and fir trees.
Outside is a verandah kitchen with gas hob and also a campfire area with fire bowl and wood provided. The large canvas awning outside means you can have your campfire even in the rain and stay toasty and warm. Inside is a wonderful iron bed with comfy mattress and all cotton bed linen. Also a wood burner. There's a cherry tree inside that can be climbed to reach the upper deck where children can camp on futons. Although designed for a family of four or for couples, the cabin is also suitable for bubbles of six adults - or just a large family! Pets are welcome.
Most guests do the Adhurst Circular Walk which encompasses two traditional Hampshire pubs - The Harrow in Steep and The Queens Head in Sheet. A second walk of 4k leads to Durleighmarch Farm where there is a tea room and pick-your-own farm. Lots of guests simply remain tucked in the woods where they can pond dip or book fly fishing, play tennis or simply read by the fire.
Map & Directions

Click to Activate
View Map