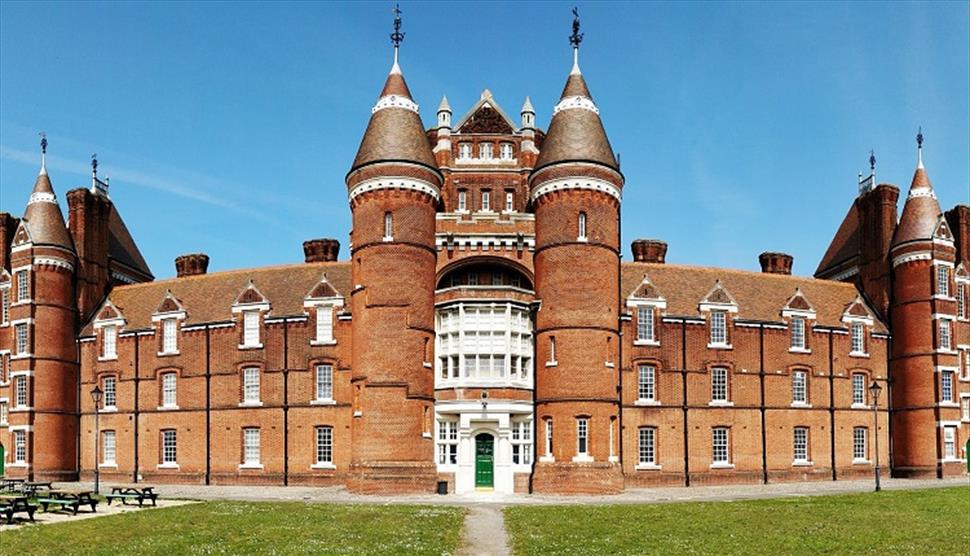 About
Portsmouth City Council is currently scaling back to only the business-critical operations in light of the latest guidelines around the COVID-19 (Coronavirus) pandemic. As such, Portsmouth Museum will be closed until further notice. Apologies for any inconvenience.
Portsmouth Museum and Art Gallery is the museum of and for the people of Portsmouth, featuring exciting and varied displays.
In the Story of Portsmouth you can discover how life at home has changed over the generations, with reconstructions of a 17th century bedchamber, an 1871 dockyard worker's kitchen, a Victorian parlour, a 1930s kitchen and a 1950s living room. The story continues with 'Portsmouth at Play', on the beach, in the cinema, on the football field and dance floor. The Fine and Decorative Art Gallery features a wide range of material from the 17th century to the present day.
A Study in Sherlock explores the life of Sir Arthur Conan Doyle and the creation of his most famous character. It features a range of interactive displays, a 'new' Sherlock Holmes mystery, and narration by Stephen Fry, the Patron of the Collection. Come and experience the world of Sherlock Holmes and fine-tune your own powers of detection!
Find out more about Arthur Conan Doyle here.
Football in the City is an exciting permanent gallery space devoted to the beautiful game. Currently on display are rare items such as both footballs from the 1939 and 2008 FA Cup Finals.
No Place Like Pompey considers the question of what makes Portsmouth unique. Is it one particular place, the city's geography, its past or its people? The exhibition examines the fact that most of Portsmouth lies on an island, the city's links with the dockyard and the Royal Navy, and the fortifications that made Portsmouth one of the most heavily defended areas in the country.
Magnifying Sherlock allows you to turn detective at Portsmouth Museum and follow the trail of the ultimate sleuth, Sherlock Holmes, and his creator Arthur Conan Doyle, who lived and worked in Portsmouth. Download this thrilling free experience as you follow in the footsteps of Sherlock on a navigational trail. Use your smartphone to stream the trail, or hire out an iPod from the City Museum reception desk. If you borrow an iPod you will be required to show photo ID such as a driver's licence.
As well as the above permanent exhibitions, a regularly changing programme of displays in the Temporary Exhibition Gallery ensures that there is always something to see or do.
Opening Times
Summer Opening Hours

(1 Apr 2020 - 30 Sept 2020)

Day
Times
Monday

Closed

Tuesday - Sunday

10:00

- 17:30
Winter Opening Hours

(1 Oct 2020 - 31 Mar 2021)

Day
Times
Monday

Closed

Tuesday - Sunday

10:00

- 17:00
Map & Directions

Click to Activate
View Map
PARKING
Drop-off point for guests immediately outside the main entrance
Parking provided for visitors
with designated parking for visitors with disabilities
Route from the parking area to the nearest public entrance is:
ATTRACTION ENTRANCE
There is a ramp to the main entrance
LIFT
ACCESS TO PUBLIC AREAS (Displays, exhibits, rides etc)
Level access (i.e. no steps or thresholds) or access by a ramp or lift to the:
public toilet suitable for visitors who use a wheelchair
CAFETERIA / RESTAURANT
Menus available in large print [i.e.14pt and over]
Level access (i.e. no steps or thresholds) or access by a ramp or lift to the:
STAFF
Staff who have contact with visitors have had disability awareness training
GENERAL
Clear signage throughout the attraction (e.g. colour contrasted, large lettering, use of pictograms etc.)
Contrast markings on all glass doors and all full-height windows
Facilities for service dogs
yes
Good colour / tonal contrast used throughout the attraction [e.g. doors contrast strongly with floors/walls]
Lighting effective throughout the attraction for visually impaired visitors [e.g. pools of light and dark areas are avoided]
Non-smoking policy throughout the attraction
Routes / pathways throughout the attraction suitable for visitors with limited mobility
Seating available throughout the attraction at appropriate intervals, for visitors with limited mobility
There is an audible alarm system
These are freely available
Where appropriate there is a hearing loop system [e.g. ticket counter/ gift shop]
This information is self-assessed; therefore we accept no liability for its accuracy. Please contact the venue for further information.