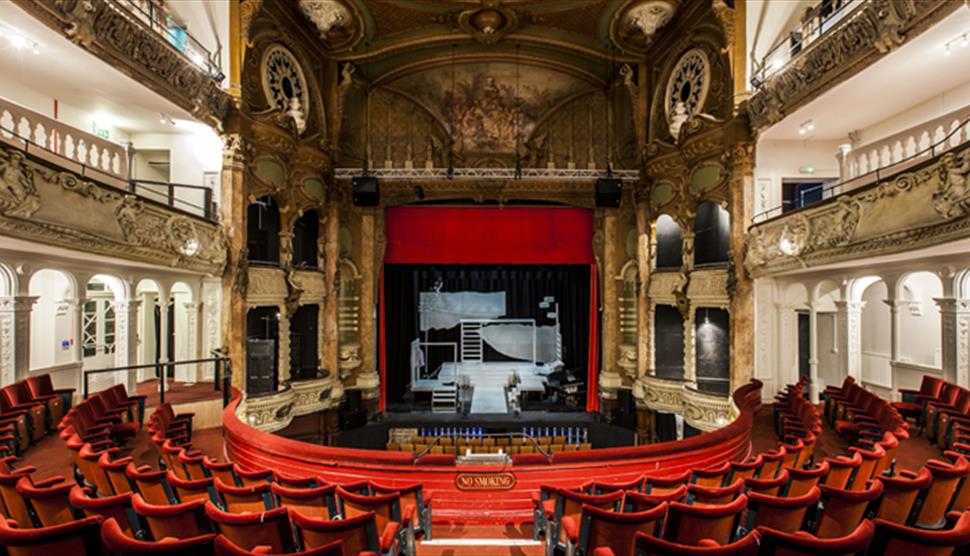 About
The New Theatre Royal is an iconic Victorian building in the heart of Portsmouth and one of the remaining few Phipps / Matcham theatres in the world.
Working with and for Portsmouth, the theatre seeks to create a programme which engages with and reflects the vitality of the city. Throughout the year, the New Theatre Royal presents and produces a diverse range of performances and is constantly seeking out new partnerships to increase the offering and create a strong 'Made in Portsmouth' brand.
The theatre has undergone extensive expansion and renovation works in recent years, to update the theatre and improve its offering. Along with closer ties to the University of Portsmouth - including physical doorways between the theatre and university buildings - the theatre now boasts the Minghella Studio, which provides workspace and a rehearsal area, as well as being a venue in its own right.
A huge variety of shows are laid on throughout the year, from operas and ballet to modern hard-hitting plays and some of the country's top stand-up talent.
Opening Times
2022
(1 Jan 2022 - 31 Dec 2022)
2022
(1 Jan 2022 - 31 Dec 2022)
* See website for booking information.
Map & Directions

Click to Activate
View Map
PARKING
Parking provided for visitors
with designated parking for visitors with disabilities
within about 50 metres of the attraction
Route from the parking area to the nearest public entrance is:
ATTRACTION ENTRANCE
There are steps to the main entrance
There are 2 steps to the main entrance
ACCESS TO PUBLIC AREAS (Displays, exhibits, rides etc)
Level access (i.e. no steps or thresholds) or access by a ramp or lift to the:
public toilet suitable for visitors who use a wheelchair
CAFETERIA / RESTAURANT
Meals provided for guests with special dietary requirements
Level access (i.e. no steps or thresholds) or access by a ramp or lift to the:
GENERAL
Facilities for service dogs
guide dogs accepted
Non-smoking policy throughout the attraction
Seating available throughout the attraction at appropriate intervals, for visitors with limited mobility
Where appropriate there is a hearing loop system [e.g. ticket counter/ gift shop]
Routes / pathways throughout the attraction suitable for visitors with limited mobility
This information is self-assessed; therefore we accept no liability for its accuracy. Please contact the venue for further information.