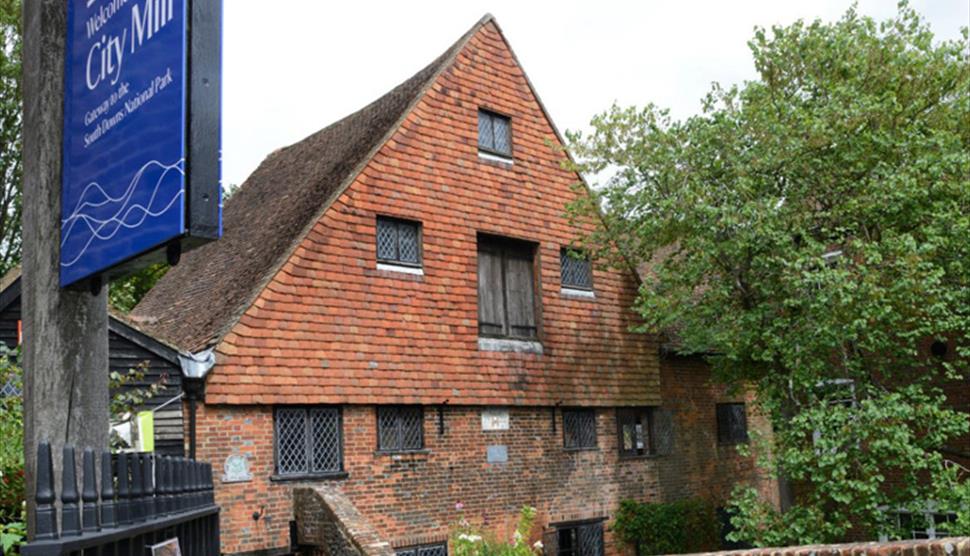 About
Winchester City Mill is a rare surviving example of an urban working corn mill, Winchester city mill is powered by the fast-flowing River Itchen, which can be seen passing underneath. Rebuilt in 1743 on the site of a medieval mill, it remained in use until the early 20th century. The National Trust undertook an ambitious restoration project and the mill resumed grinding flour in March 2004.

Every weekend, and midweek during school holidays, the mill uses medieval technology to produce fresh wholemeal flour. Visit on a milling day and see the team of volunteer millers in action. They harness the power of the River Itchen to turn waterwheels, gears and millstones to produce the mill's traditional stoneground flour. All demonstrations are subject to volunteer availability.

Treat loved ones or celebrate special days, like Mother's Day, Easter Sunday and Christmas with the mill's regular baking demonstrations. Each one is seasonally themed to show how the freshly milled wholemeal flour can be combined with a variety of local produce. Chat to the bakers, try their recipes and ask them any questions you have. Before you leave, pick up one of the recipe cards, buy a bag of flour and get baking as soon as you get home. All demonstrations are subject to volunteer availability.

There's lots for your family to get involved with at Winchester City Mill. From expert milling and baking demonstrations to quiz trails, hands-on activities, wildlife spotting and '50 things' challenges. Every holiday the mill have a brand new trail, perfect to keep the little ones entertained. Watch the informative film, flick through the Youth Hostel scrapbooks or listen to the audio points to meet the people of the Mill's past.

Explore Winchester City Mill's idyllic island garden. You'll find a wide variety of flowers blossom throughout the seasons and the clear chalk stream river is teeming with wildlife. Enjoy spotting trout, water voles and nesting grey wagtails and tick off our '50 things to do before you're 11¾' activities whilst you're here.

Although Winchester City Mill is in the centre of Winchester, it's a location remarkably alive with wildlife, including our famous otters. The otters' regular adventures are captured by a series of motion activated cameras that record them as they emerge from under the Mill to mark territory during hunts for food. Visitors can enjoy clips from regularly updated archive footage and view the live feed from the cameras along the river.

Benham's Bakehouse features a unique ingredient - fresh stoneground wholemeal flour, milled on site for over 1,000 years. Situated in the heart of the mill, you can escape the hustle and bustle of historic Winchester and tuck into delicious breakfast, lunch and tea-time treats, as you watch the bakers at work.
Opening Times
* 1st Jan – 3rd Nov 2019: 10:00 – 17:00
4th Nov – 24th Dec: 10:00 – 16:00
25th – 31st Dec: Closed

Please check Winchester City Mill's website for the latest opening dates and times

Map & Directions

Click to Activate
View Map