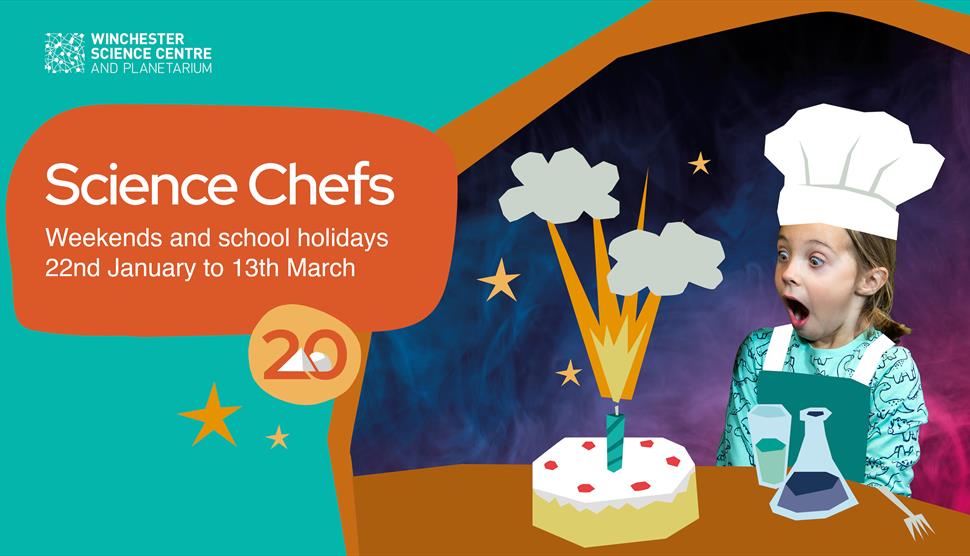 About
Thrusters on – it's time to go back to 2002 as Winchester Science Centre celebrates 20 years of its most amazing wow moments. But don't worry if time travel leaves you feeling a bit peckish, the Inspirers will be cooking up a scientific storm. Between Saturday 22nd January and Sunday 13th March, including February half term, join the Science Centre's very own noughties cooking show, Science Chefs. Discover how much cooking and chemistry have in common through fun facts and explosive and fiery demos. Plus, head off on a magical adventure in the Planetarium, experience hands-on fun with the interactive exhibitions and get up close to nature in Bio:Space.

In 2022, Winchester Science Centre is celebrating 20 years in its iconic pyramid shaped building. Visitors throughout the year will see the return of some of the most popular science show themes and demos of the past 20 years – all with a retro 2002 twist. First up, it's the explosive chemical reactions.

Back in the noughties food exploded in the UK. There were lots more ingredients. Cookery shows were all over TV and people were becoming more adventurous in what they were eating. But did you know that cooking and chemistry have lots in common? In fact chemical reactions are key to making something super tasty. After all, flour on its own isn't great but when it reacts with sugar, eggs and butter you get a cake.

Visitors are invited to join the audience of the Science Centre's very own noughties cooking show, Science Chefs, and get cooking with curiosity. Find out what makes a chemical reaction. Explore the chemistry of snacks and how different foods supply your body with different amounts of energy. And discover how much chemical energy changes depending on the food. And of course, this marvellous menu of science bites wouldn't be complete without some epic demos. There'll be new fiery reactions and some of the Science Centre's most spectacular chemical reaction demos will be making a comeback. Get set to be wowed again by the explosive sugar flame thrower.
Opening Times
Sorry, this event has passed
Map & Directions

Click to Activate
View Map