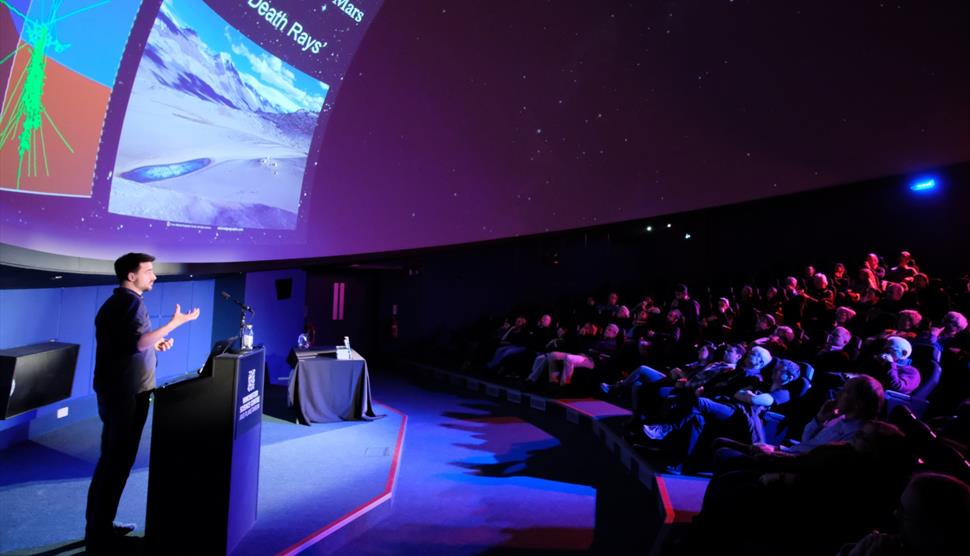 About
Winchester Science Centre's evening Space Lectures are aimed at a level a little above most popular science lectures, so come prepared to exercise your brain and learn the science behind the headlines.

The speakers are chosen from the best academic speakers in the UK, with a talent for explaining difficult concepts and the knowledge to give the very latest news from the research community.

Although the primary audience is adults, older children are also welcome to attend.

Lecturer: Professor Justin Read (University of Surrey)

Abstract: Since its discovery by the Swiss astronomer Fritz Zwicky in the 1930's, dark matter has continued to capture the public imagination. It raises the velocity of stars and gas in galaxies, bends light around massive galaxy clusters and promotes the growth of structure in the Universe. In this talk, I will explain the key evidences for dark matter, and our latest theories for what it is. In particular, I will focus on new results from our group in Surrey that show that dark matter can be "heated up" and moved around at the centres of tiny "dwarf" galaxies. I show that this points to dark matter comprising a new particle of nature that remains to be found. I conclude with a discussion of the latest experiments that are trying to detect or create such a particle in the laboratory. Prof. Justin Read is Head of Physics at the University of Surrey. His main area of research is gravitational probes of dark matter, studying everything from the tiniest galaxies in the Universe, where we can measure how dark matter clusters on the smallest scales, to giant clusters of galaxies, where we can produce images of the distribution of dark matter using gravitational lensing.

Prof. Read completed his PhD in theoretical astrophysics at Cambridge University, UK in 2004. After a two-year postdoctoral research position, also in Cambridge, he moved to the University of Zürich to join the computational science group. In 2009, he joined the University of Leicester as a lecturer in theoretical astrophysics, and in October 2010 he was awarded an SNF assistant professorship at the ETH Zürich. In April 2013, he took up a full Chair at the University of Surrey. Prof. Read was awarded the 2013 MERAC Prize by the European Astronomical Society for his high impact research in computational astrophysics and cosmology. He is a fellow of the Institute of Physics and the Royal Physiographic Society of Lund.

For more information and ticket information see Winchester Science Centre's website.
Opening Times
Sorry, this event has passed
Map & Directions

Click to Activate
View Map