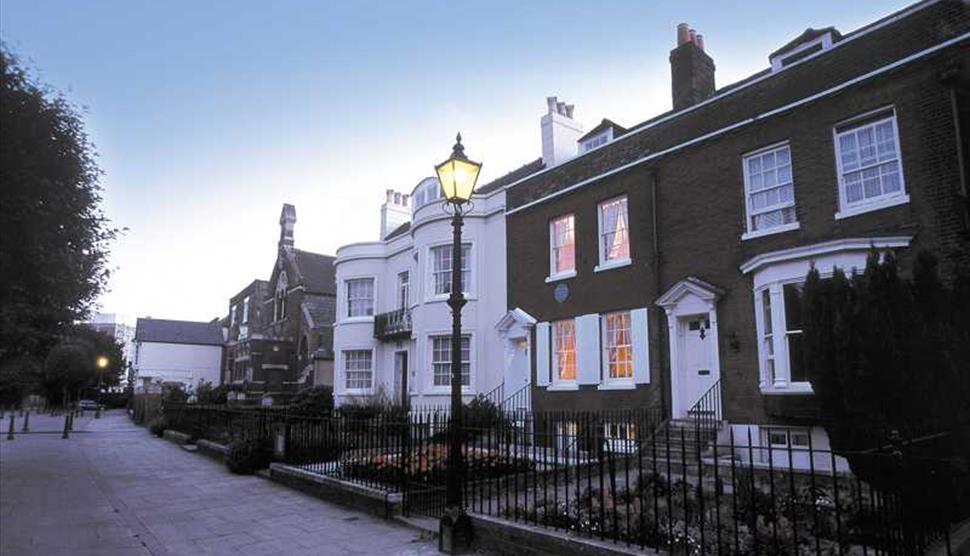 About
Pay a visit to the small terraced house where, in 1812, the famous novelist Charles Dickens was born. The home in which he lived for a short time has been lovingly restored and furnished to illustrate middle-class tastes of Dickens' era.
The furniture, ceramics, glass, household objects and decorations faithfully recreate the Regency style which Charles's parents would have favoured, although their actual possessions have long since been dispersed.
There are three furnished rooms: the parlour, the dining room and the bedroom where Charles was born. The exhibition room features a display on Charles Dickens and Portsmouth, as well as a small collection of memorabilia. This includes the couch on which he died at his house in Kent, his snuff box, inkwell, and paper knife - poignant reminders of an author celebrated for his prodigious talents and creative output.
Volunteers will be in costume every 2nd and 4th Saturday of the month and The Dickens Fellowship provide readings at 3pm on the first Sunday of every month. Please contact the museum prior to visiting to confirm these events are taking place.
Use the weblink above to access the museum's website for futher information.
Opening Times
Summer Opening

(31 Mar 2022 - 1 Oct 2022)

Day
Times
Monday - Thursday

Closed

Friday - Sunday

10:00

- 17:30
Winter Closing

(26 Sept 2022 - 30 Mar 2023)

Day
Times
* Last admission to Charles Dickens' Birthplace Museum - 30 minutes before closing time.
Map & Directions

Click to Activate
View Map