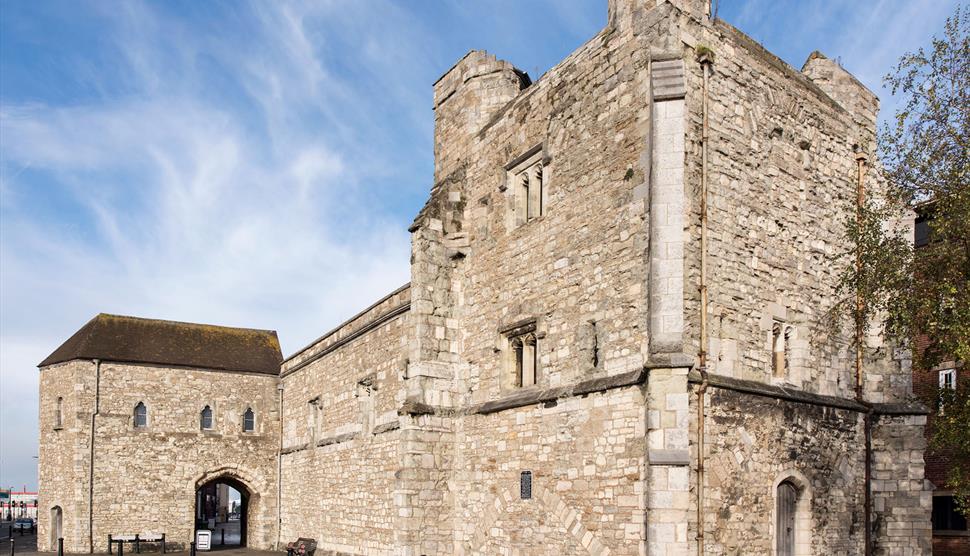 About
Important Notice
God's House Tower are committed to playing their part in helping stop the spread of Coronavirus and in minimising its impact on GHT staff, visitors, artists and performers.
GHT will therefore close from 5pm , Tuesday 17th March, until Tuesday March 24th. All events scheduled to take place between now and then are postponed.
They will continue to monitor Public Health England, UK government and Arts Council England guidance. Please check the God's House Tower for further updates.

The arts and heritage venue opened in October 2019. Located at the entrance to Southampton's fascinating Old Town. The venue will display inspirational art, stunning rooftop views and 700 years of history.
Visitors can see the latest exhibitions, talks, workshops and across the immersive four-floor heritage experience.
Each floor takes you on a journey in time through the God's House Tower's dark history with the "Stories Behind The Stones", from the 14th century sacking of Southampton to stunning views over the modern-day city.
This major refurbishment project of one of Southampton's most important buildings includes two new galleries showing contemporary art and important works from prestigious South Coast collections.
The Heritage: Live! programme includes events with some of the best writers, artists and historians, all exploring Southampton's iconic coastline and God's House Tower's lost connection to the sea.
At God's House Tower visitors or passersby can treat themselves to coffees, teas, cakes, sandwiches, pastries and Viennoiserie at their café bar run by popular The Hoxton Bakehouse.
The historic gateway into Old Southampton is open once again.
Opening Times
God's House Tower open (last entry 16:30)

(1 Jan 2022 - 31 Dec 2022)

Day
Times
Monday - Sunday

10:00

- 17:00
Hoxton Bakehouse Open

(1 Jan 2022 - 31 Dec 2022)

Day
Times
Monday - Friday

08:00

- 17:00

Saturday - Sunday

10:00

- 17:00
* Important Notice
God's House Tower are committed to playing their part in helping stop the spread of Coronavirus and in minimising its impact on GHT staff, visitors, artists and performers.
GHT will therefore close from 5pm , Tuesday 17th March, until Tuesday March 24th. All events scheduled to take place between now and then are postponed.
They will continue to monitor Public Health England, UK government and Arts Council England guidance. Please check the God's House Tower for further updates.

Hoxton Bakehouse only offers take-away service from 4pm- 5pm


Map & Directions

Click to Activate
View Map