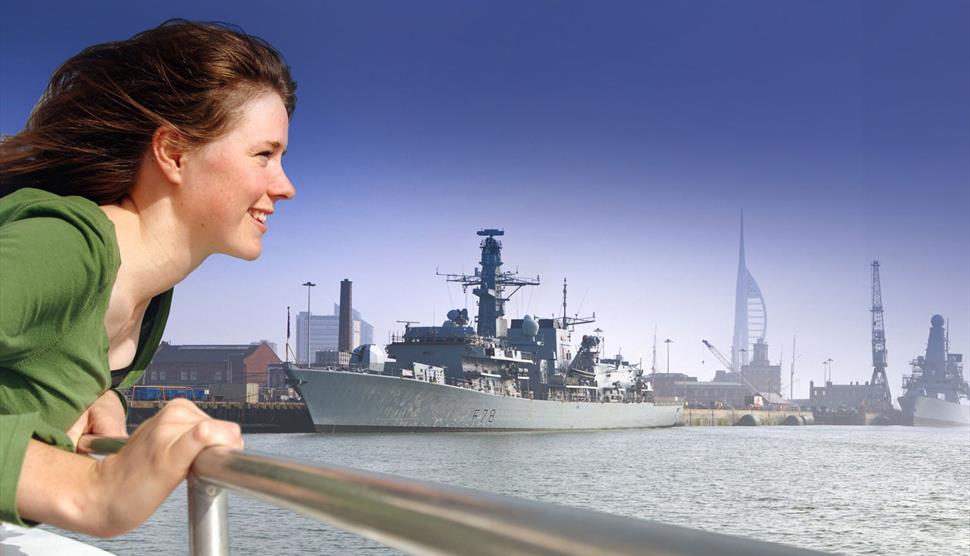 About
Portsmouth is still the home of the modern Royal Navy and taking the Harbour Tour offers unrivalled views of Britain's modern frigates, destroyers and helicopter carriers, as well as historic buildings and the dramatic skyline.
The history of the British Navy at Portsmouth dates back 1,200 years to its earliest days under King Alfred the Great in the 860s. This wide natural inlet in the coastline is a flooded river valley protected by a deep narrow entrance on two sides of the dockyard, here and at Gosport, which makes an ideal natural harbour.
Roman and Saxon strongholds were constructed on the northern shore to defend against Viking attacks and to protect trade, but the harbour's first permanent fort, Portchester Castle, was built after the Norman conquest in 1066.
Portsea Island, at the entrance to the harbour, was used as a mustering station for armies during the wars with France, and by the late 12th century a small town had grown on the south-western corner of the Island to accommodate workers and to service troops. In 1194 King Richard I granted this town, known as Portsmouth, a Royal Charter to construct a dockyard, and in 1212 King John protected the new dockyard with a great wall.
On the 45 minute Harbour Tour you will see many of the fortifications that were built to protect Portsmouth over the centuries, in particular the Round Tower at the harbour entrance and the Solent forts which formed the centre of a string of fortifications along the coast during the Napoleonic Wars.
Please note that Harbour Tours may not operate every day during the winter months. Navy ships in port will vary daily.
Map & Directions

Click to Activate
View Map