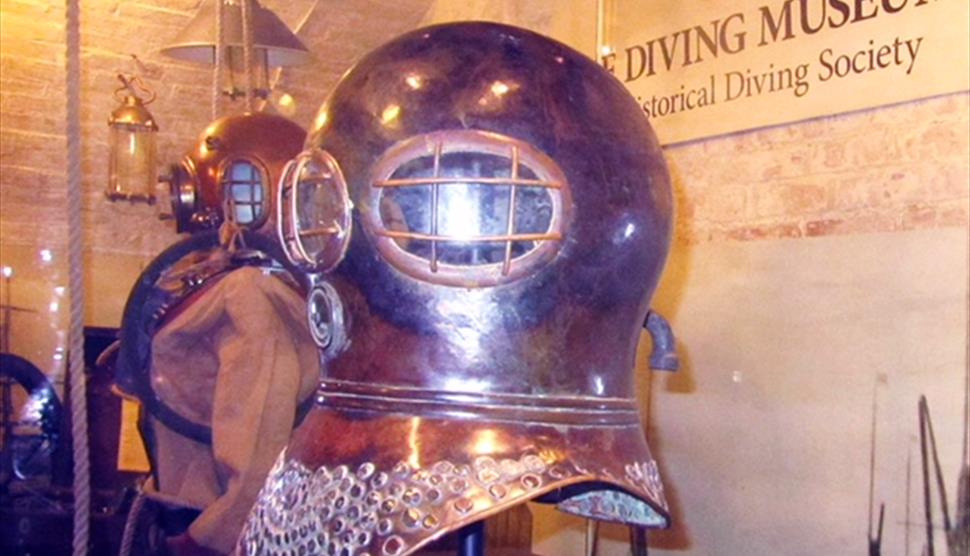 About
From ancient times man has reaped the natural treasures of the oceans – pearls and coral have been collected since at least 5000BC. The 18th century saw an explosion of interest in recovering treasures from sunken vessels. Experimentation with diving bells was followed by the invention of the diving helmet in the 19th century – commercial diving was born.

After the Second World War, sport diving became popular. Today, divers can work at depths as great as 300m doing everything from military operations, oilfield support, salvage and construction to fish farming, archaeology, research – and even just for fun! From ancient to modern, it's all at The Diving Museum.

The Diving Museum is run entirely by volunteers and members of the Historical Diving Society.

The Diving Museum is open on Bank Holidays and weekends from April to October inclusive.

Because the exhibits are both heavy and fragile, the museum regret that they are unable to admit unaccompanied children. All under 16s must be accompanied by a responsible adult.
Opening Times
Open

(6 Apr 2020 - 27 Oct 2020)

Day
Times
Monday - Friday

Closed

*

Saturday - Sunday

11:00

- 16:00

*
Dates and times marked with a '*' are provisional and may be subject to change
Map & Directions

Click to Activate
View Map