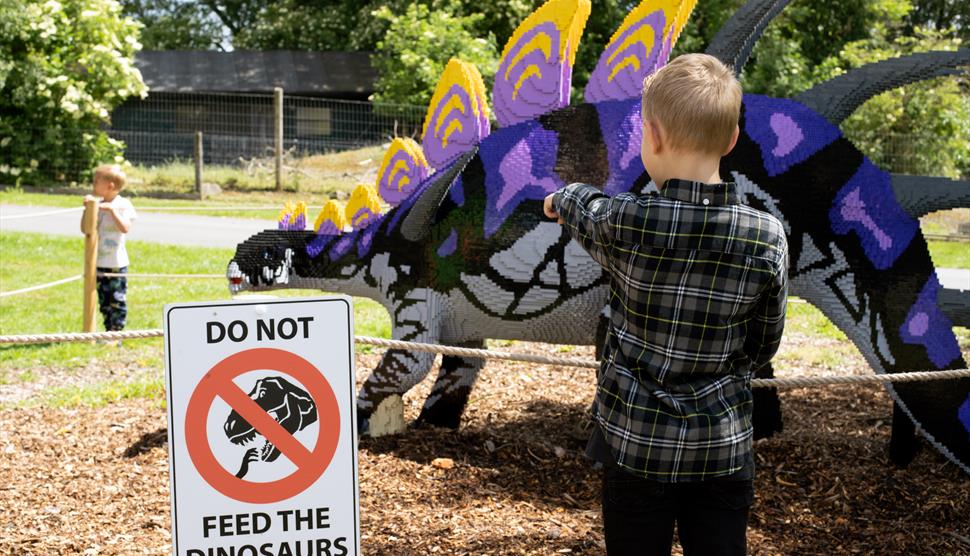 About
Marwell Zoo is excited to have BRICKOSAURS! Evolution, the world-first event featuring an all-new collection of dinosaur sculptures at Marwell Zoo throughout the summer.

BRICKOSUARS! Evolution showcases over 20 species made using more than 2 million toy bricks and will leave you in awe as you embark on an immersive adventure through the zoo. Go back in time and come face to face with amazing prehistoric creatures such as the incredible seven-meter-long Spinosaurus, a nodding Heterodontosaurus, and a huge Mosasaur emerging from the water. The mammoth collection of toy bricks just got even bigger with the arrival of seven new additions to the herd. Amongst the newcomers, They've welcomed two Pachycephalosaurus, a Kentrosaurus, an Acanthopholis and a roarsome Ceratosaur!

Marwell are also hosting a huge Brachiosaurs who towers over the zoo at around 3 metres tall – making it the tallest brick sculpture we've ever had at the park!

At the Fossil Zone, kids both big and small can literally walk in their favourite dinosaurs' footsteps on the fossil pavement, plus prepare for a few surprises! Enthusiasts will be able to test their knowledge along the trail with a host of fascinating dino facts and build stats at every turn. There will be plenty of photo opportunities along the way too! The interactive expedition features 60+ dinosaur sculptures and is on display alongside our hundreds of resident endangered and exotic animals, is sure to excite families, toy brick and dinosaur enthusiasts alike.

If all of that isn't exciting enough, the zoo is taking it up a notch for a special BRICKOSAURS! Unleashed event (18-19 June) where guests will be able to get even closer to some of our dino builds and take part in a variety of exclusive activities over the weekend.

BRICKOSAURS! Evolution is included with general admission to the zoo and will be on display until 4 September 2022. The zoo is owned and operated by conservation charity Marwell Wildlife, so every penny spent with them supports amazing projects to conserve habitats and species both in Hampshire and around the world.
Opening Times
Open

(1 Apr 2022 - 4 Sept 2022)

Day
Times
Monday - Sunday

10:00

- 17:00
Map & Directions

Click to Activate
View Map