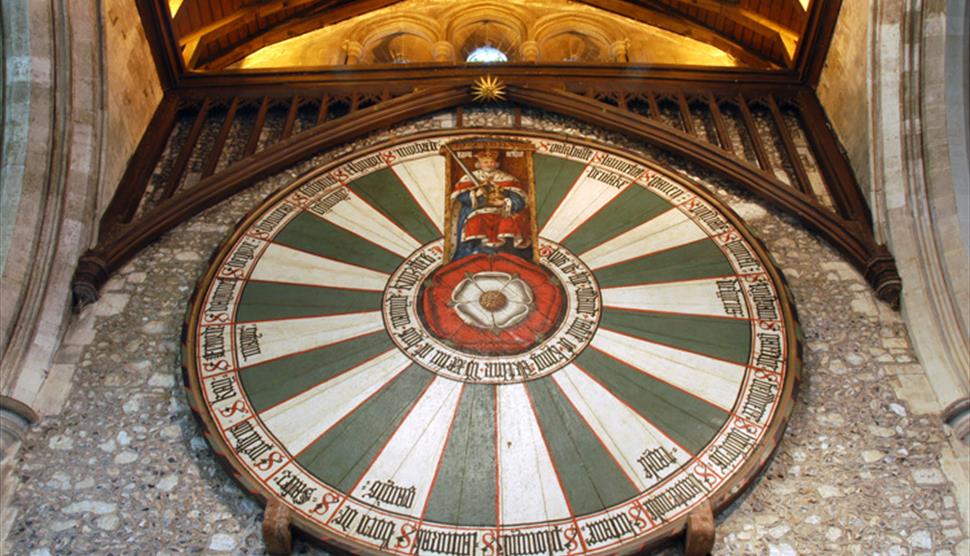 About
Situated at the top of the High Street just to the left of The Westgate, The Great Hall and Sally Port are the only surviving parts of Winchester Castle and are owned and maintained by Hampshire County Council.
The Great Hall is home to the legendary Arthurian Round Table, which has hung there since 1348. The Table has been dated to the 13th or early 14th century and was probably constructed within the Hall. The names of 24 of the Knights of the Round Table are written around the edge of the table, surmounted by King Arthur on his throne.

The Great Hall was one of the largest and finest in England, and is certainly the finest of that period to have survived today. Its many features include stained-glass windows, a judges' gallery and wrought steel gates that were installed in 1983 to commemorate the wedding of the Prince of Wales and Lady Diana Spencer.

Open: All year, daily 10am–5pm except Christmas and Boxing Day.
Occasionally closed for civic events*. Please see our website for details.

Guided tours available upon request. Group booking advised.

Nearest parking at Tower Street Car Park.
Opening Times
2022
(15 Feb 2022 - 31 Dec 2022)
* Occasionally closed for civic events - please see website for details www.hants.gov.uk/greathall


Map & Directions

Click to Activate
View Map