#EscapeTheEveryday this Autumn with a day trip or short break to Hampshire. Step away from your normal routine and discover Hampshire's unique experiences, amazing places to stay, quality local food and drink, top attractions, and the abundance of outdoor space.
The county comes alive with colour during the autumnal months offering the perfect opportunity to get outdoors and enjoy autumn walks, bike rides and explore new places.
Hampshire is a little over an hour from London and easily accessible from all round the country, which means it is quicker than ever to escape to the countryside, relax and unwind.
Read on to start planning your #EscapeTheEveryday autumn break or day trip to experience the very best of what Hampshire has to offer.
Please remember to know before you go; check opening times and restrictions and make bookings.

Discovery
If you are looking to discover new experiences, places, and attractions this autumn these ideas could be for you. Escape the crowds and explore hidden gems, adventure off the beat track for new experiences and enjoy culture with no queues in some of Hampshire's world-class attractions.

Culture without queues
Avoid the crowds and queues and visit one or more of these great attractions: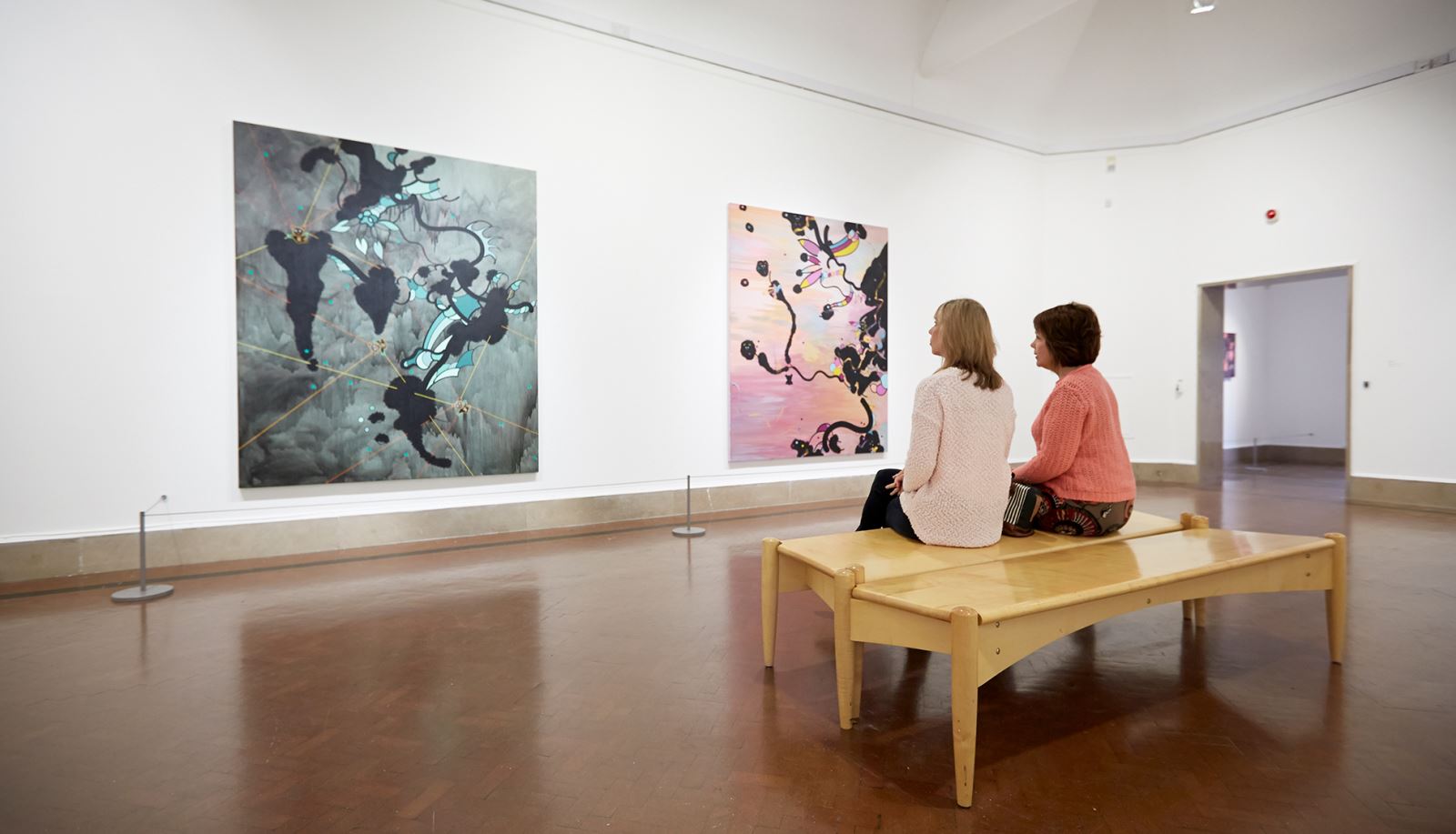 Southampton Art Gallery
Escape everyday life in the peace and tranquillity of Southampton Art Gallery. Located in the city centre, the gallery hosts several internationally acclaimed exhibitions and artworks throughout the year.
Find our more about Southampton Art Gallery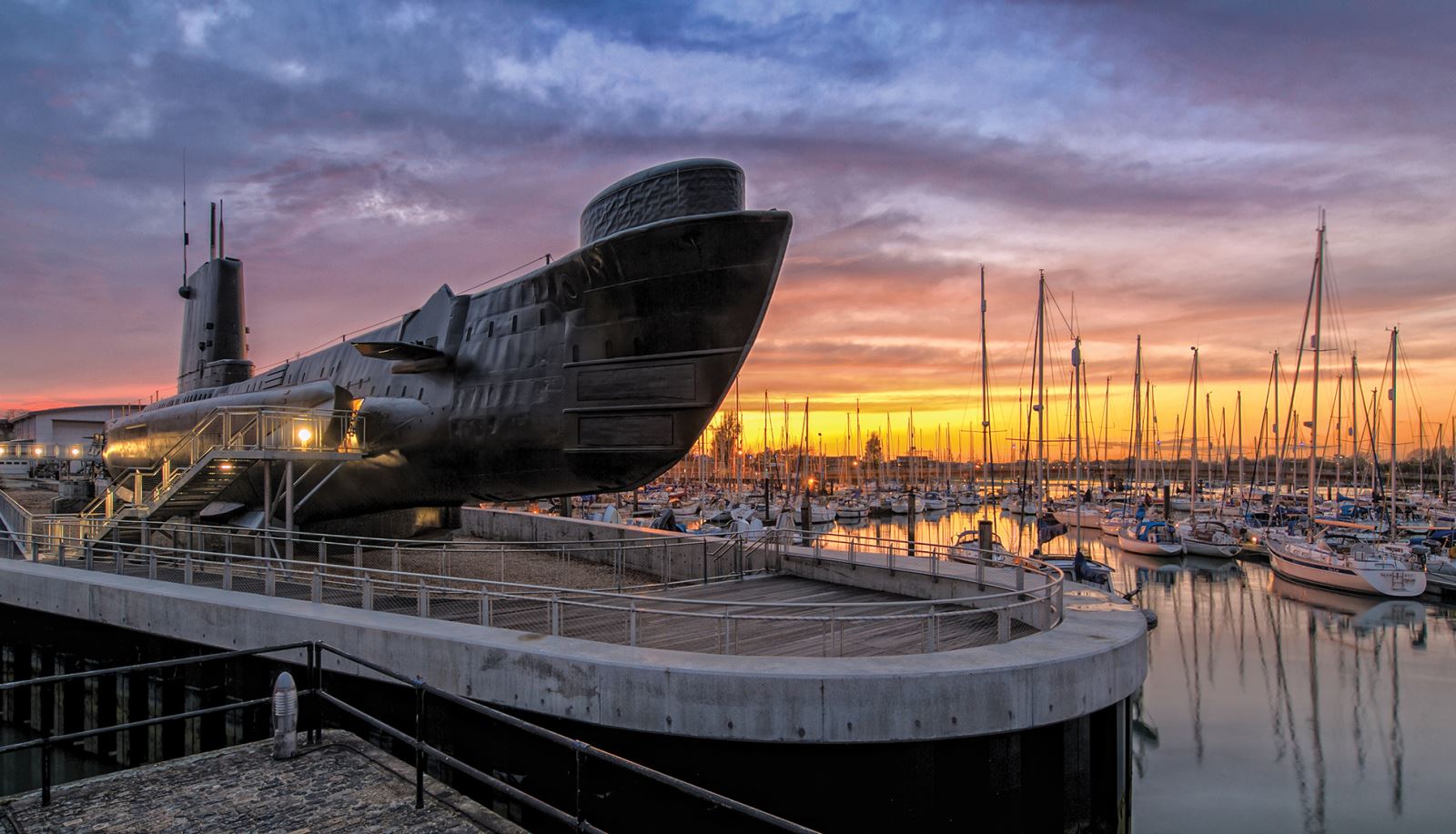 Portsmouth Historic Dockyard
Step back in time and explore historic ships at Portsmouth Historic Dockyard. Choose the Ultimate Explorer ticket and will give you access to explore HMS Victory, HMS Warrior, The Mary Rose, HMS Alliance at the Submarine Museum, The National Museum of the Royal Navy plus much more!
Find out more about Portsmouth Historic Dockyard

Hidden Gems
Hampshire is full of hidden gems waiting to be discovered. Escape the status quo and explore the lesser known areas and attractions: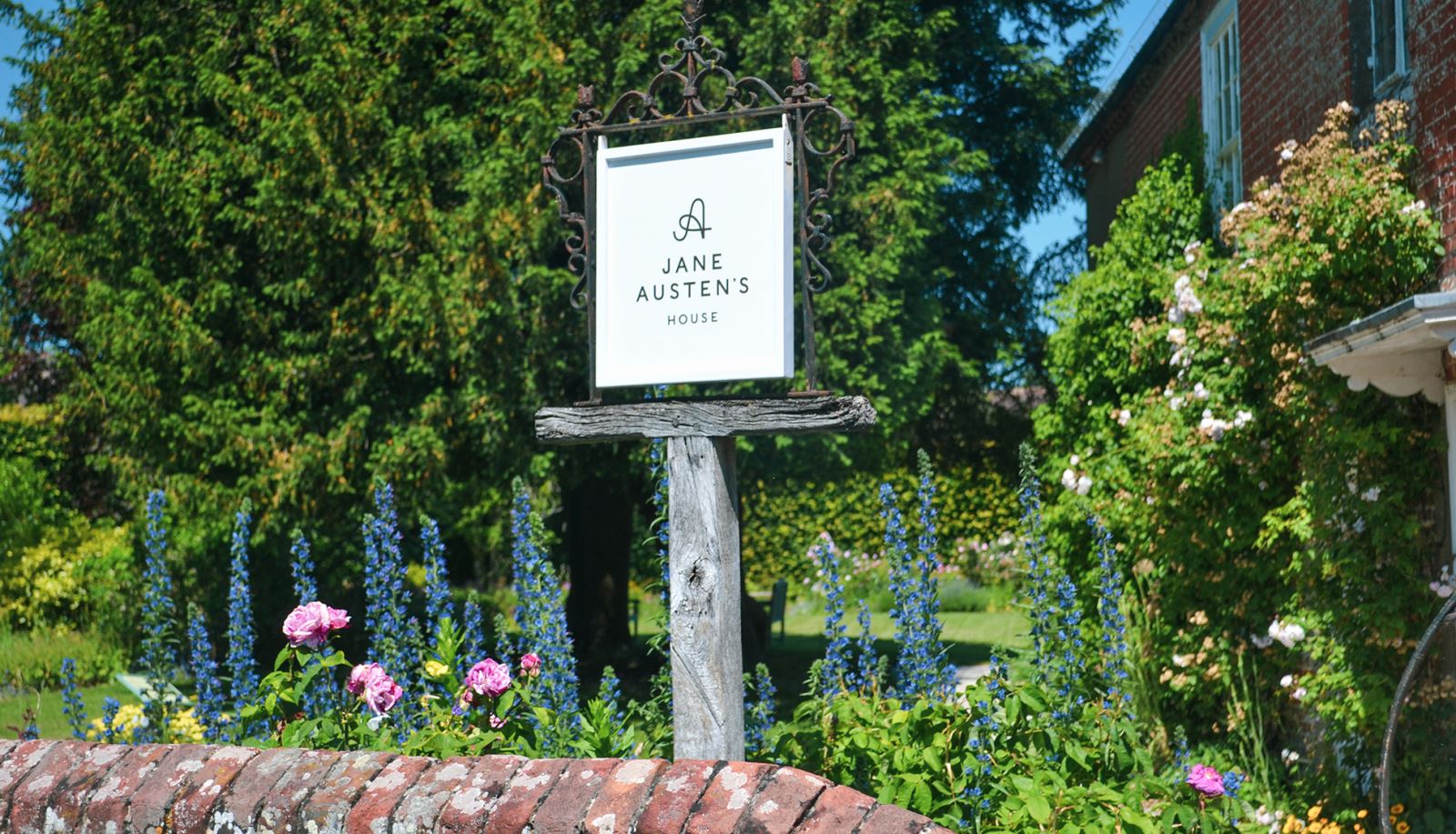 Jane Austen's House
The former home of Jane Austen and her family is tucked away in the pretty village of Chawton. Step back in time and explore the house and grounds that inspired Jane's works and see the table where she used to write.
Find out more about Chawton House

Chawton House
Located in the peaceful South Downs village of Chawton, Chawton House is one of Hampshire best kept secret stately homes. Chawton House was owned by Jane Austen's brother, located a short walk from her home, soak up this unique property and explore the beautiful, landscaped gardens.
Find out more about Chawton House

Off the Beaten Path Experiences
Adventure off the beaten track and explore the quieter parts of Hampshire but offer unique experiences that you will not forget: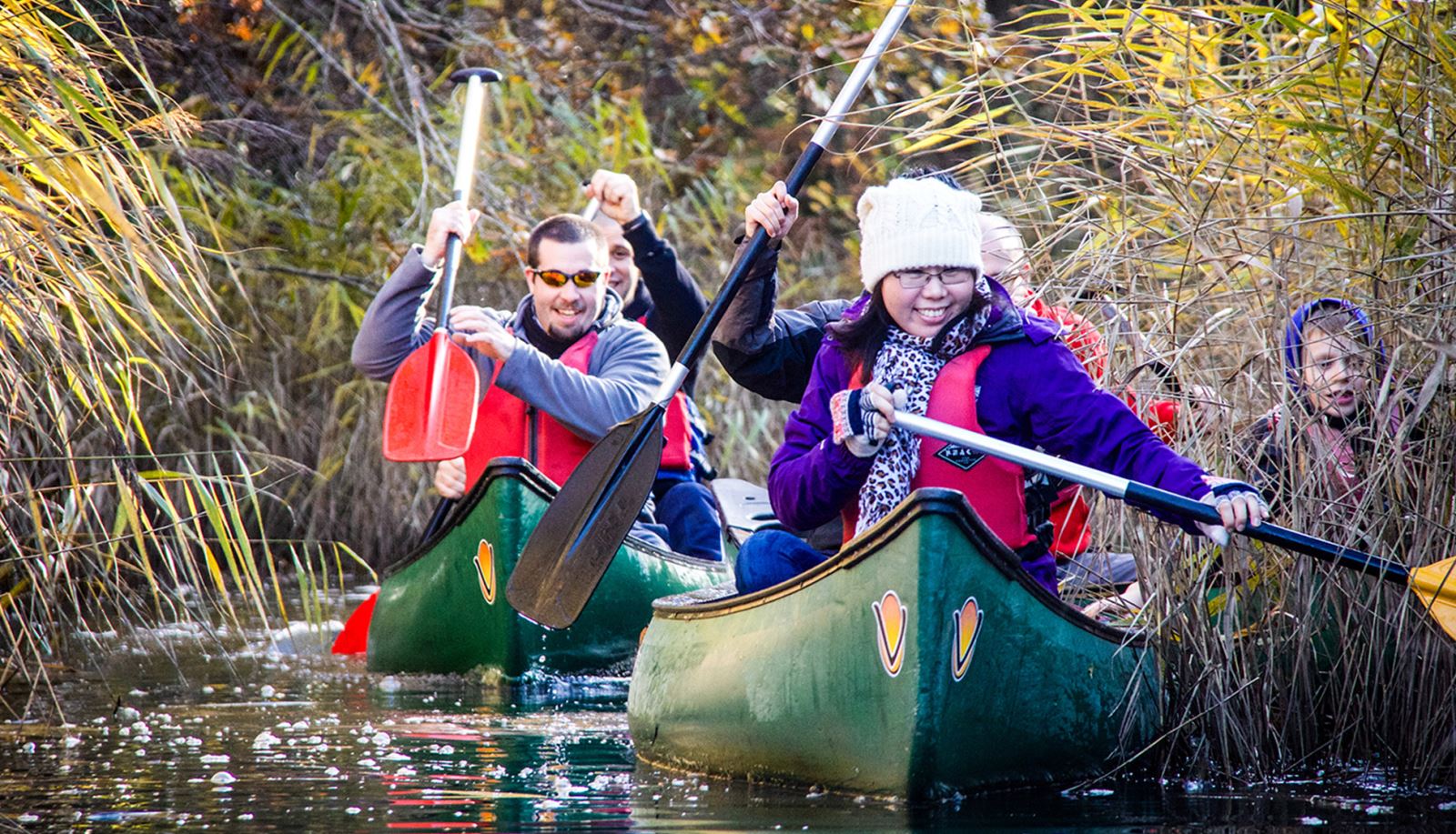 Canoe Tour on Beaulieu River with New Forest Activities
Take to the water and explore a small haven of the New Forest National Park in a Canoe. Join the New Forest Activities crew as they take you on a gentle paddle along the Beaulieu River whilst soaking up the wildlife and scenic views.
Find out more about New Forest Activities canoe tours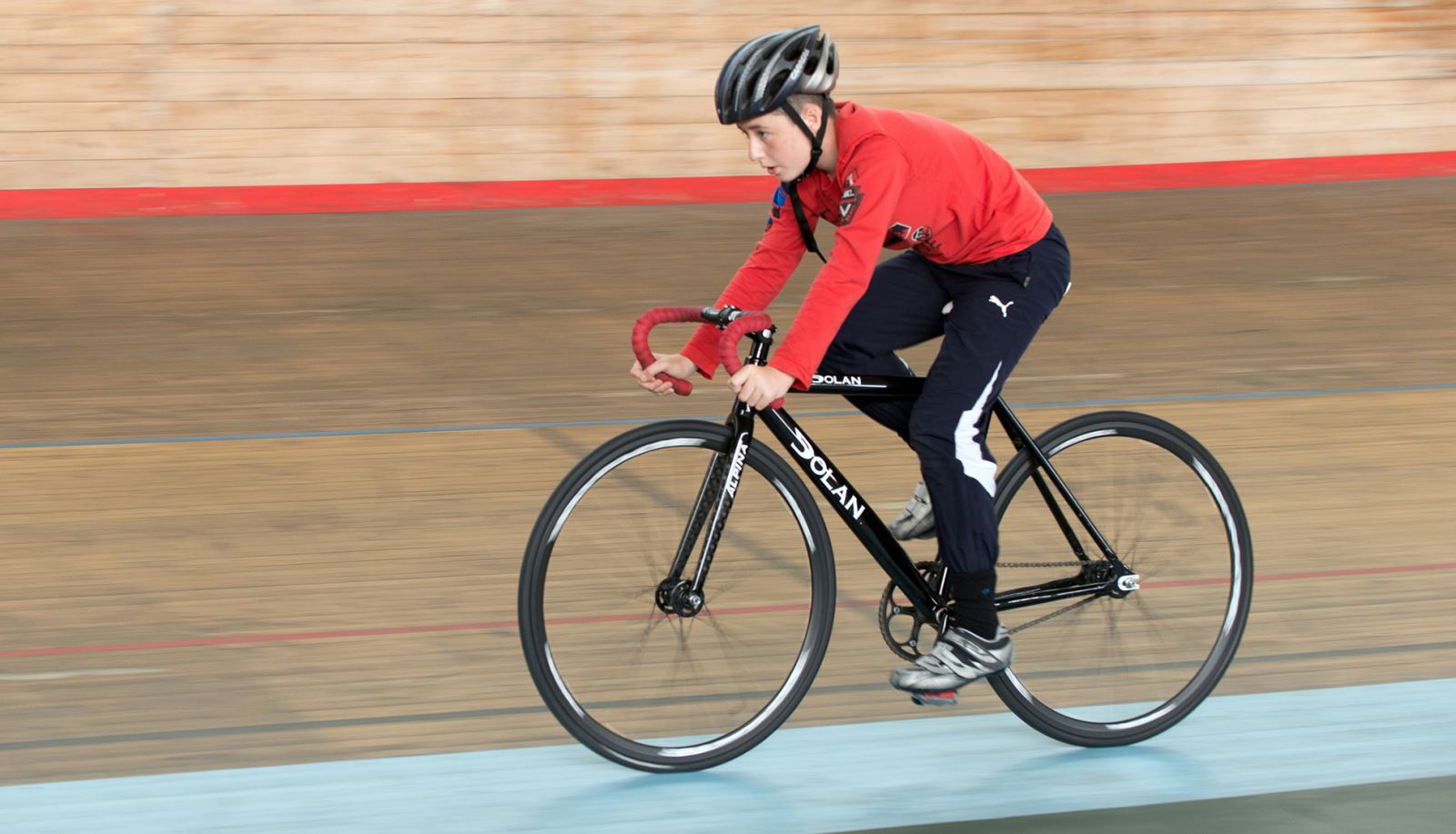 Velodrome Experience at Calshot Activity Centre
For an adrenaline fuelled experience learn to ride on a velodrome. Calshot Activity Centre's Velodrome is the only indoor banked velodrome on the South Coast. The entry level session led by expert instructors will teach you the fundamentals and get you flying round the banked wall.
Find out more about Calshot Velodrome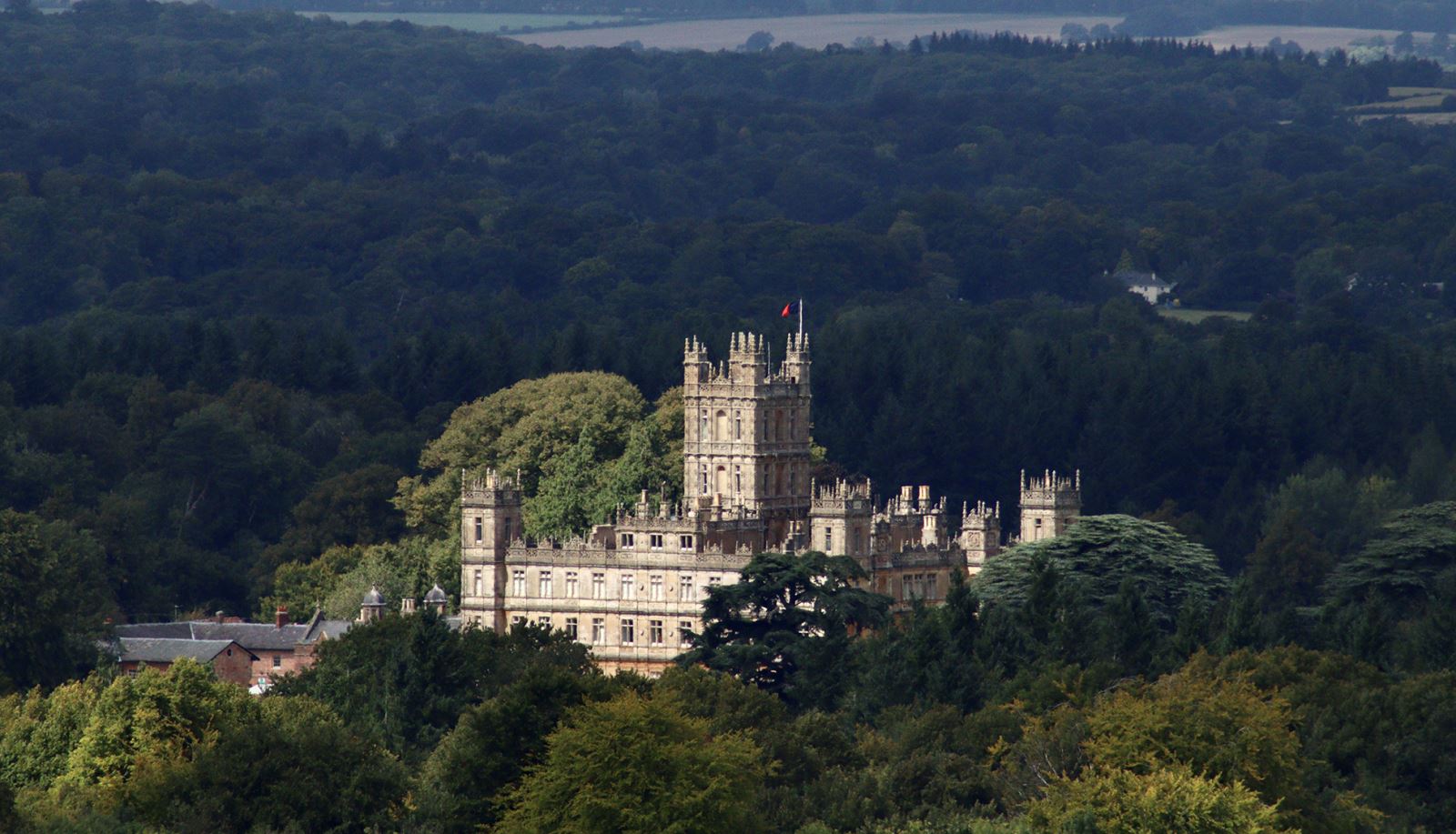 Highclere Castle
Did you know Downton Abbey was filmed in Hampshire? Tucked away in the north of the county Highclere Castle is the real Downton Abbey. Relax as you explore the house and stroll through the grounds of this world-famous stately home.
Find out more about Highclere Castle

Wildlife Spotting
Adventure into our countryside or along our Solent coastline and keep your eyes pealed for an array of wildlife. Hampshire is home to several areas of Outstanding Natural Beauty, protected wildlife areas and nature reserves.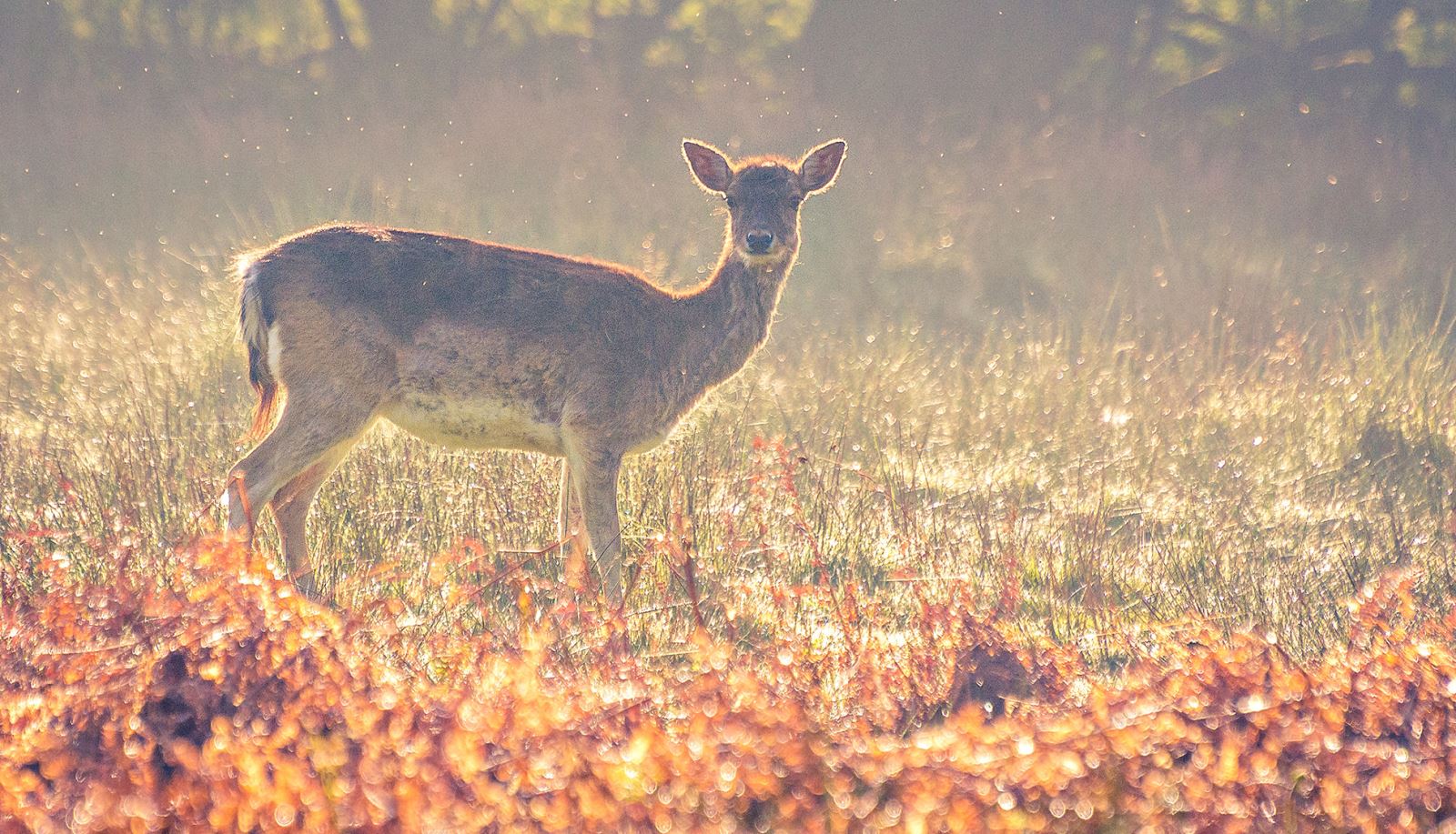 Dear Spotting in the New Forest National Park
Head to the Bolderwood Deer Feeding Platform in the New Forest National Park and witness a herd of fallow deer regularly grazing. This purpose-built viewing platform overlooks a large meadow where deer can be seen in their natural environment feeding.
Find out more about Bolderwood Deer Feeding Platform

Oyster Catchers at Hayling Island
Oyster Catchers can be seen all year round along the British coastline. A good spot to see these little, bright orange beaked sea loving birds in Hampshire is on Hayling island.
Find out more about Hayling Island

Freedom to Explore
With stunning countryside including two national parks, three vibrant cities and picturesque towns and villages, you will find plenty of space to escape the crowds and explore what our amazing county has to offer in your own time. Even within the middle of a city centre you will find hidden gems.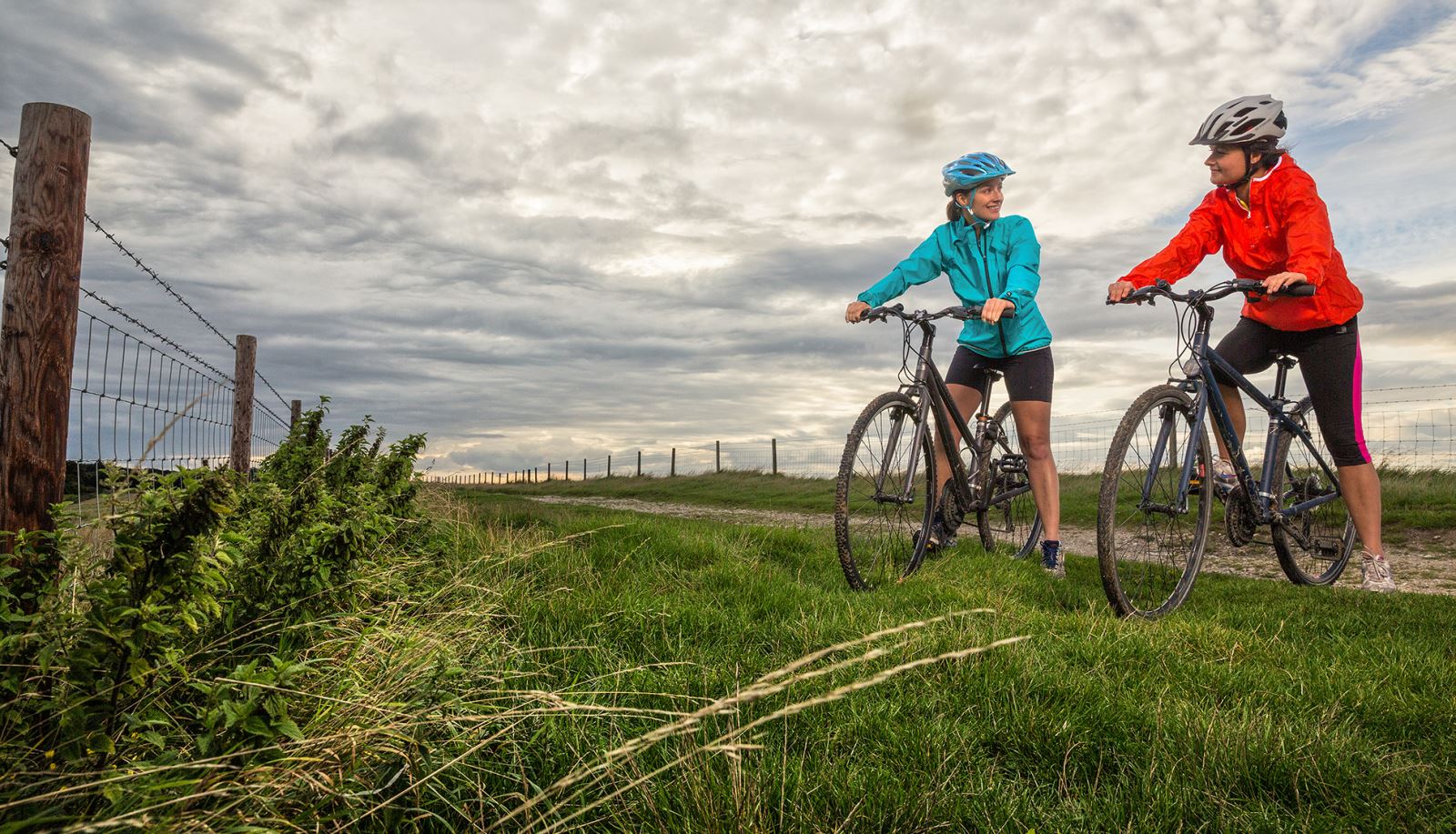 Walking and Cycling Routes
Hampshire is home to 3,000 miles of footpaths, bridleways, and byways across two stunning National Parks (The South Downs and The New Forest), beautiful countryside and along coastline that offers views across The Solent. You will find walks for all ages and abilities that are perfect for exploring the county.
Venture out on two wheels, with miles of rural lanes, off road tracks and family friendly routes you'll find cycling for all abilities. Being out on the bike is a great way to explore and visit lesser known picturesque quieter parts of the county.
Find out more about Cycling in Hampshire

Quirky Accommodation
The staycation is the new vacation, and you will find instagramable worthy accommodation in Hampshire. From hangars, glamping pods, converted horse boxes, remote National Park cottages and forest hideaways.
See all accommodation in Hampshire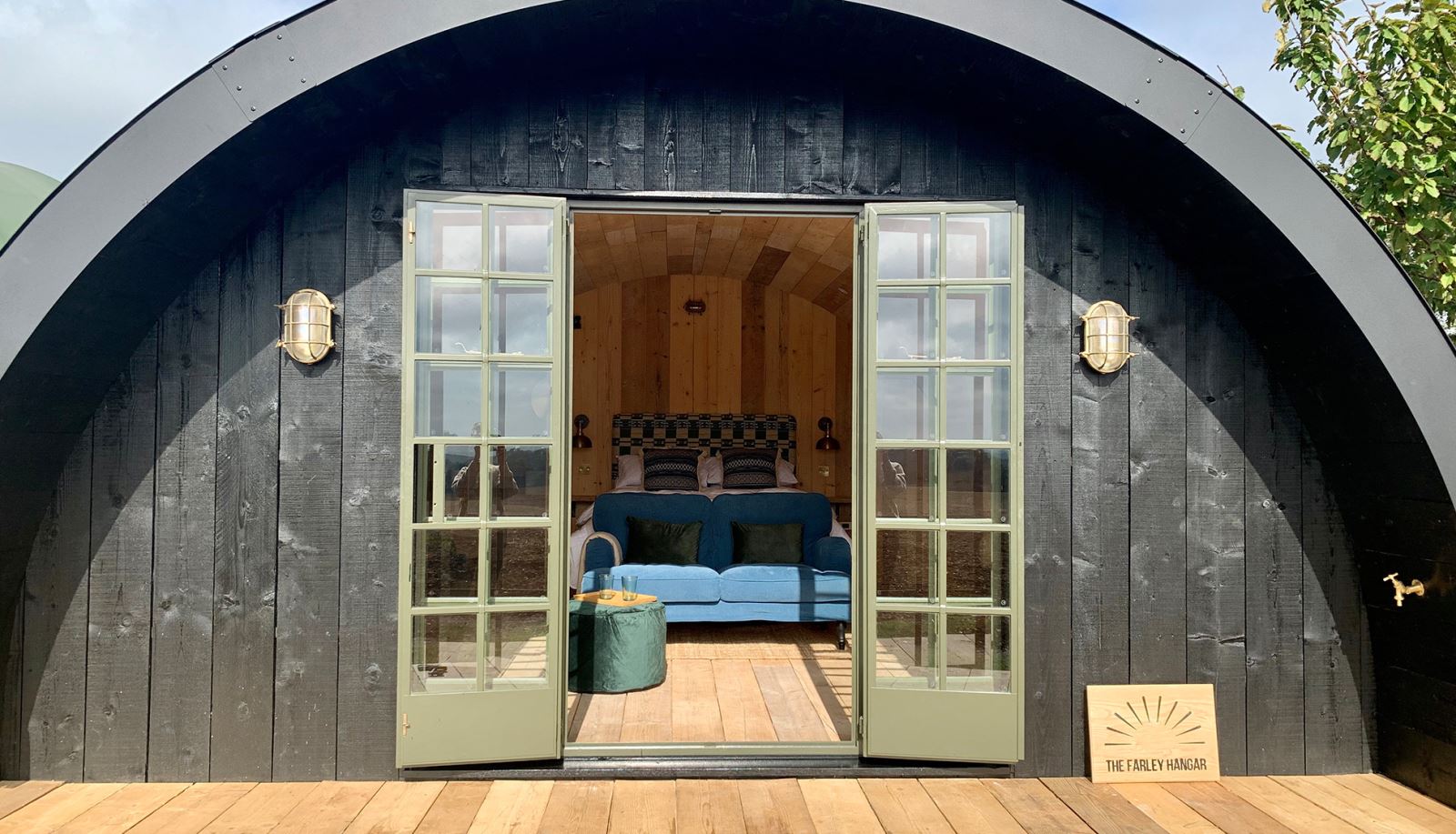 The Farley Hangar
Set on the top of a hill, The Farley Hangar is an excellent all year-round secluded retreat. This beautifully furnished glamping hangar is south-facing and on a clear day offers views as far as The New Forest National Park and the Isle of Wight.
Find out more about The Farley Hangar

Crowd Free Bucket List Experiences
Escape the crowds and immerse yourself in these bucket list experiences and must visit attractions.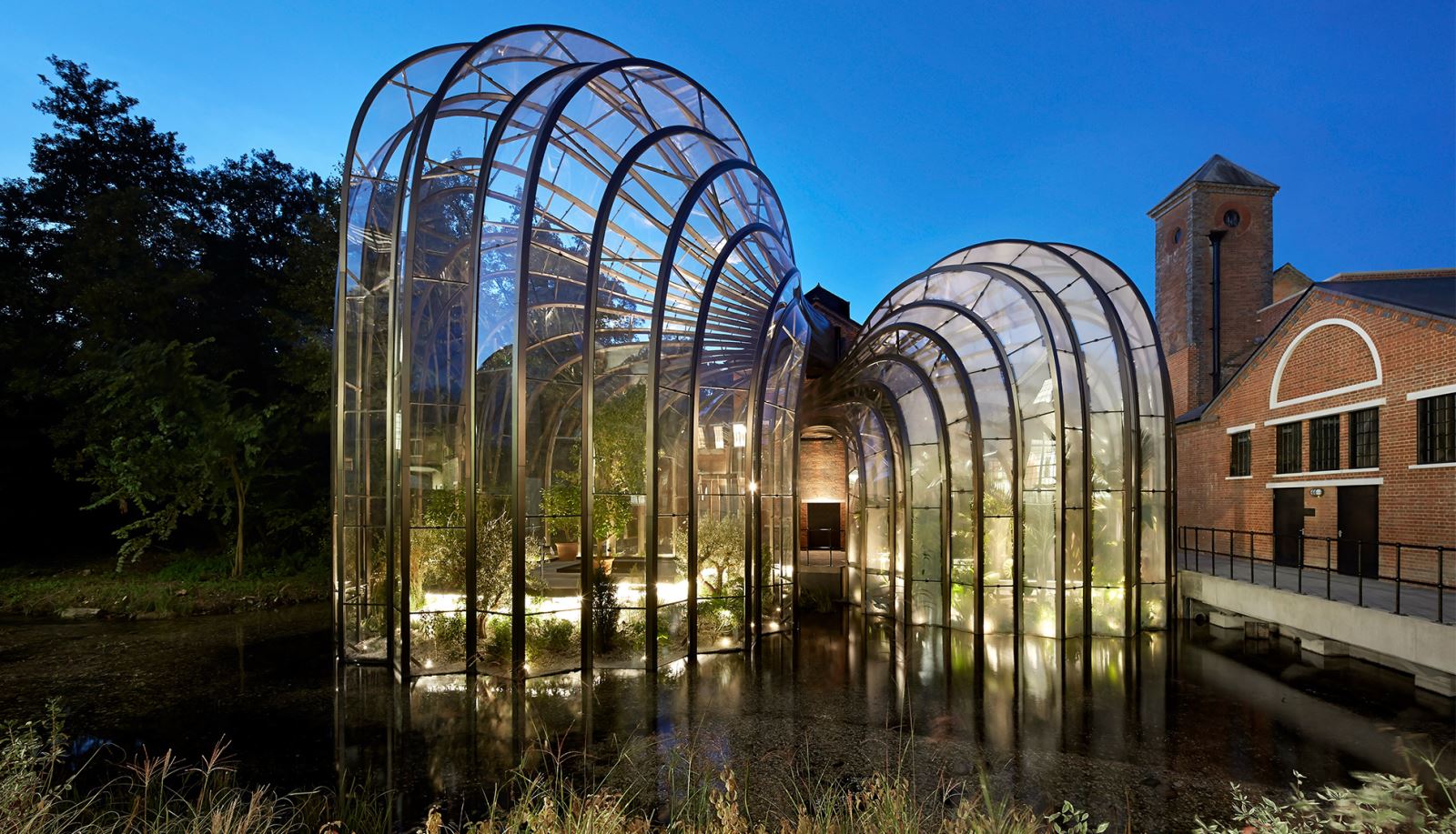 Bombay Sapphire Distillery
Take a gin inspired journey and see how the world famous Bombay Sapphire Gin is distilled and which botanicals are used to make the delicious tipple. Nestled in peaceful rural north Hampshire, Bombay Sapphire Distillery is a must visit for any gin lover.
Find out more about Bombay Sapphire Distillery

Treat Yourself
We all need to treat ourselves from time to time and here in Hampshire you can escape the everyday with a touch of luxury. Whether you are looking for a luxury spa break away, dining at a 'must eat' restaurant or looking for some retail therapy Hampshire's the place to go.

Spa Breaks
Relax, unwind and escape this autumn with a luxury spa break in Hampshire. The county is home to many stunning spa hotels nestled in beautiful spots and all offering the perfect pamper experience.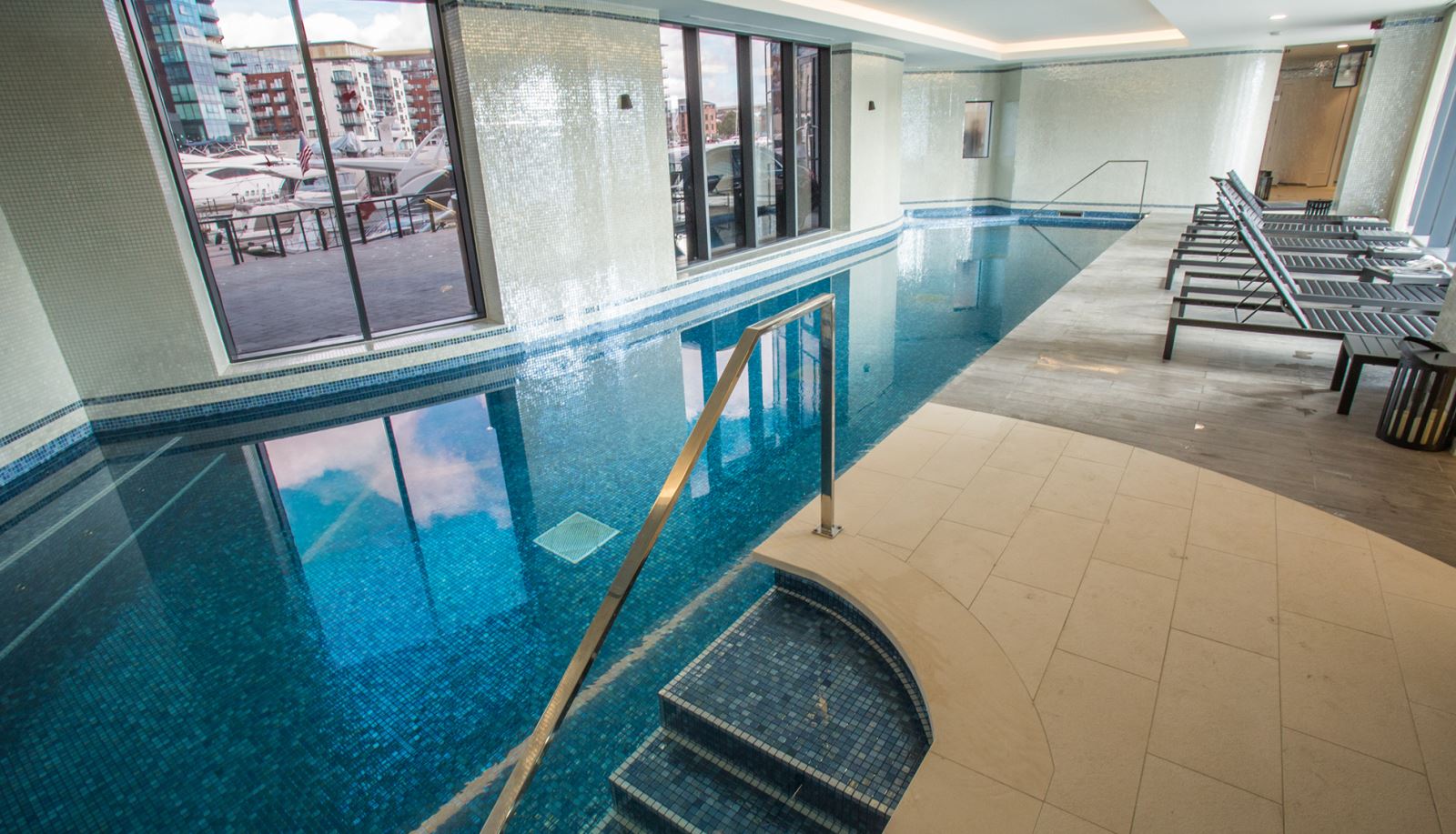 HarSPA at Southampton Harbour Hotel
The luxury hotel is located in Ocean Village Marina and the building is designed to mimic a super yacht. Once you step the HarSPA you will soon feel relaxed and pampered.
Find out more about HarSPA at Southampton Harbour Hotel

Bucket List Dining
Hampshire is famous for its food and drink! Across the county you will find local producers, farmers markets and award-winning places to eat. How about adding these restaurants to your list of places to eat this autumn?

Kyoto Kitchen in Winchester
Tucked away in the centre of the historic city of Winchester, this small but popular Japanese restaurant offers authentic Japanese dishes, all careful prepared and cooked. Many of their dishes use locally sourced ingredients such as the 'Winchester Roll', which uses wasabi leaf grown in Hampshire and hot smoked trout caught just down the road.
Find out more about Kyoto Kitchen

Verveine in Lymington
Michelin Guide recommended Verveine is an award-winning fish restaurant located in the coastal town of Lymington, in the New Forest National Park. The restaurant has its own in-house fish monger enabling them to create superb food from the very best ingredients.

Restaurant 27 in Portsmouth
Restaurant 27 is Portsmouth's only 2 AA Rosette Restaurant and is Michelin Guide recommended. Located near the seafront, you'll find a modern but unique dining experience which involves the very best ingredients and exciting combinations.
Find out more about Restaurant 27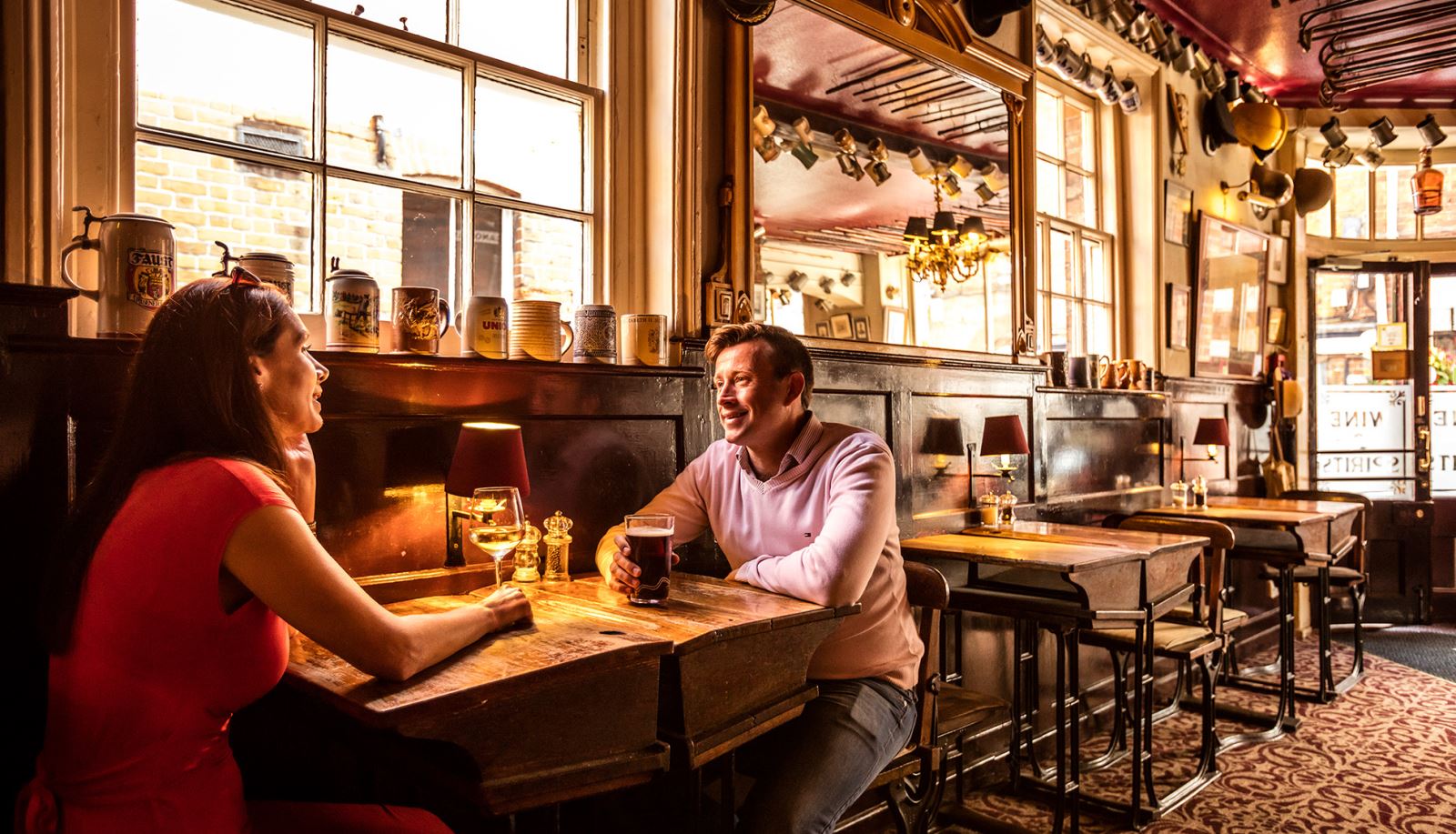 Cosy Pubs
After a busy day exploring the county, shelter from the cooler autumnal air by a crackling fire in a cosy pub. Put your feet up, enjoy locally sourced food and have your favourite tipple in hand.

The Wykeham Arms, Winchester
Dining at the award-winning Wykeham Arms, you will be treated to a range of top-quality dishes using locally sourced Hampshire ingredients. This cosy pub is tucked away in the historic streets of Winchester and has strong connects with Winchester College and Winchester Cathedral.
Find out more about The Wykeham Arms

The Greyhound on the Test, Stockbridge
This traditional pub is located on the banks of the River Test in the town of Stockbridge and offers an open plan bar and dining area displaying original low beams and wooden floors. Enjoy an intimate dining experience inside or book one of their new outdoor dining pods.
find out more about the Greyhound on the Test

The Bat and Ball, Hambledon
Located in the South Downs National Park, The Bat and Ball has all the qualities of a traditional English pub. You will find a fantastic choice of food and ales, cosy interior and a pub garden offering great views. If you are a cricket fan this pub is steeped in cricket history.
Find out more about the The Bat and Ball

Shop till You Drop
Whether you are looking to treat yourself or make an early start on your Christmas shopping, look no further than Hampshire. Our superb shopping facilities in Southampton, Portsmouth, Winchester and Basingstoke are among the best in the country and offer a winning combination of both high street brand name stores and smaller independent retailers.

Gunwharf Quays
Gunwharf Quays outlet shopping centre is located on Portsmouth's historic waterfront. Here you can shop at over 90 famous brands including Coach, North Face, The White Company, Hugo Boss and Nike.
Find out more about Gunwharf Quays

Getting to Hampshire
Hampshire is very accessible, below are a sample average journey times by car:


Getting Around Hampshire
Hampshire has an excellent road network linking our villages, towns, cities, attractions and places to stay.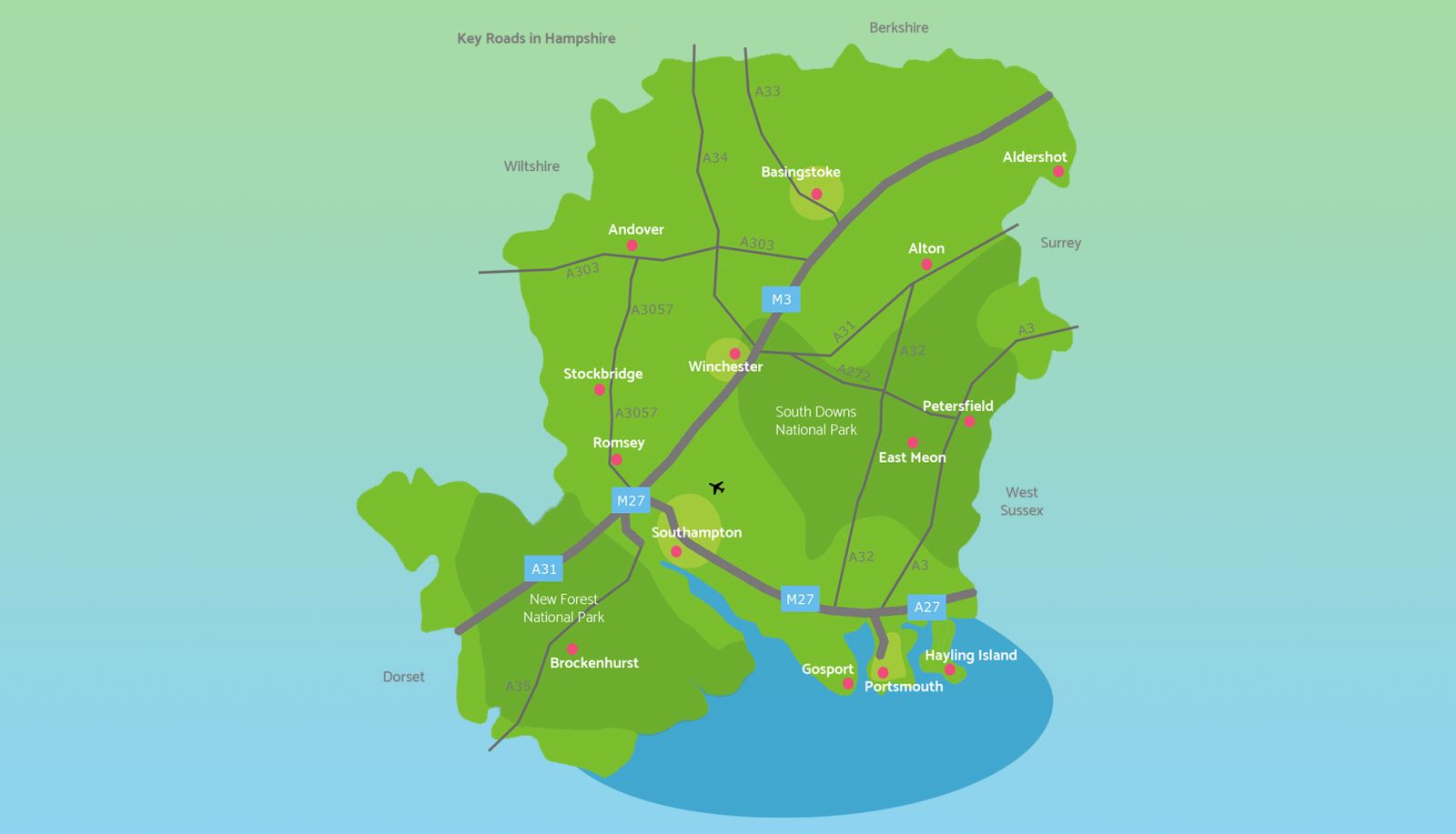 Below is an example of journey times by car between our cities and towns.

Related
0 Comments